Wales, day two: Conwy Golf Club, honoring the past, hopeful for the future in North Wales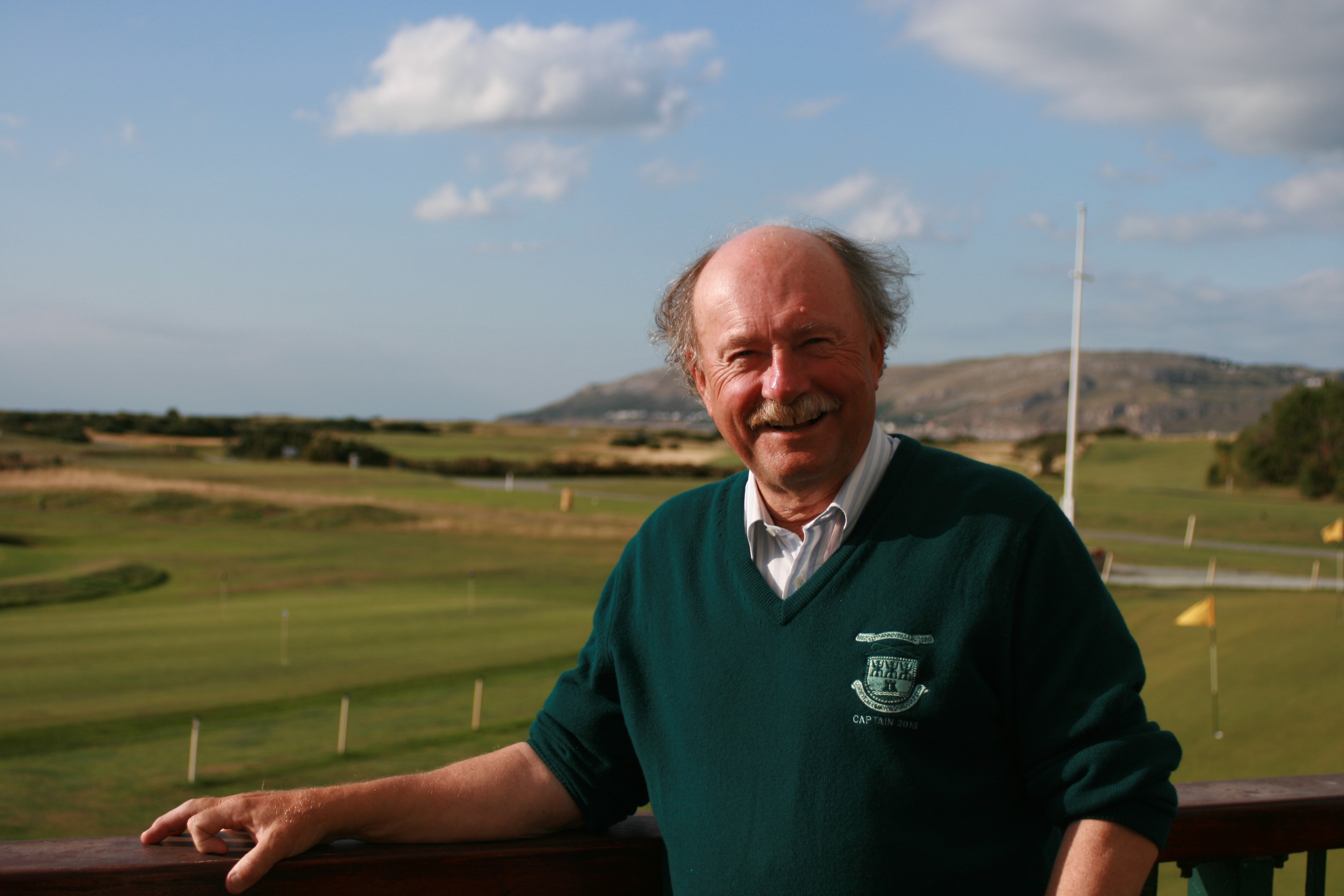 Golf architect David Williams, captain of Conwy Golf Club, with the Great Orme in the background.
And a few words about the amazing Bodysgallen Hall
CONWY, Wales — The captain of Conwy Golf Club, a course so challenging that it served as the qualifying site for the British Open in 2006 and has hosted three European Seniors Tour events, is David Williams.
He described the position, common to golf clubs in the United Kingdom, as a largely ceremonial function, though it is clearly more than that, and Williams is clearly more than your average captain.
He is a golf course architect, who has designed about 30 courses, most in England south of London, and is the only golf course architect in Wales, where he was born. He was part of the design team for PGA Golf Catalunya, the course in Spain bidding to host the 2022 Ryder Cup. He is a past president of the European Institute of Golf Course Architects. He has played or at least visited some of the top courses in Europe and the United States, including Shinnecock, Augusta National, Pine Valley and Bethpage Black.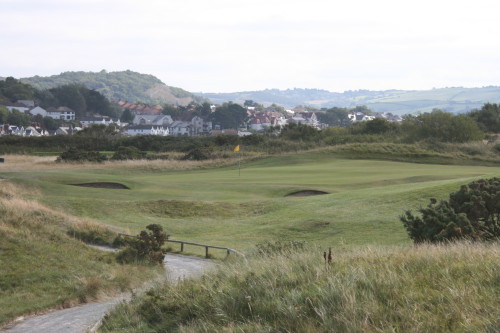 The par 3 second hole at Conwy Golf Club, Conwy, Wales.
Williams has been a member at Conwy for 40 years, he served as greens chairman for six years until assuming the captaincy this year, he co-authored a book celebrating the history of the club, which celebrated its 125th anniversary this year, and he produced a pamphlet describing three iconic golf paintings by Douglas Adams in 1893, paintings that many golfers have seen, in one place or another, "The Drive," "A Difficult Bunker," and "The Putting Green," paintings that depict scenes at Conwy Golf Club, "yet nobody knows that."
Williams is immensely proud of his course; he re-designed the No. 2 green complex about 15 years ago, to improve winter drainage, and has influenced other changes to the course in recent years. He has also been deeply invested in the future of golf in Wales, to the extent that he helped the Welsh government search for a suitable site to create a course that could host the Open Championship one year — which a course in Wales has never done.
Williams has also studied the possibility of putting a golf course on the cliff atop the Great Orme, the limestone hill that rises more than 600 feet above the resort town of Llandudno, a course that could garner international attention for its unique setting and draw golfers from all over.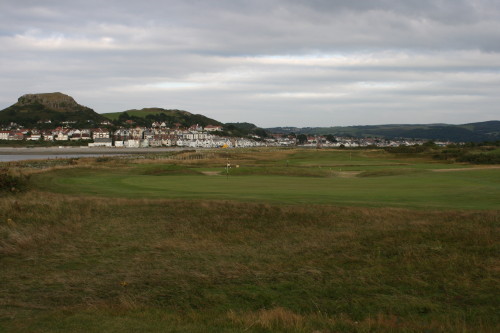 The ninth and third greens at Conwy Golf Club, Conwy, North Wales.
In other words, a trophy course, something Wales lacks, despite the presence of wonderful courses that are great values, though the better courses are more spread out than the top courses in southwest Ireland, for example.
Compared with $200 and up greens fees at the trophy courses, greens fees at Conwy Golf Club are 45 pounds on weekdays, 57 on weekends in high season, or $70 and just under $90.  Adding to that value is the setting — nearby Llandudno is a resort area, with half the visitor beds in Wales; Conwy features an Edwardian castle and is a walled city.  So there's a lot to see for tourists, and a lot to do for non-golfers while a golfer is on the course.
("Alice in Wonderland" was inspired in Llandudno, and is celebrated there.)
Of the 8,000 visitors to Conwy Golf Club each year, Williams said, perhaps 20 to 30 are from the United States, and he was talking actual numbers, not a percentage. That's "an issue" for Wales, one those who care about golf and tourism in the nation are trying to deal with.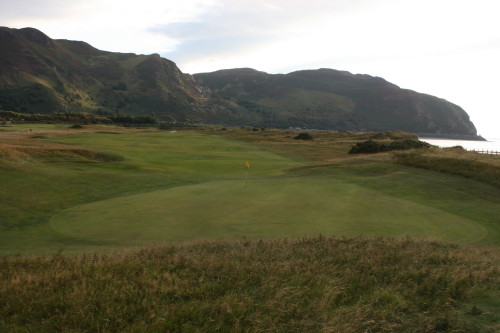 The seventh green and fairway at Conwy Golf Club, Conwy, Wales.
"People don't necessarily think of Wales and golf," Williams said. "There are great golf courses, but they are not as well known outside Europe. …
"I would say there are some great courses that if they were in other areas they would be better known."
In public perception, he said, when golfers think of the United Kingdom, "Wales is No. 4 when it comes to golf," behind Scotland, Ireland and England.
Conwy, a club founded in 1890, with the first 12 holes opening in 1895 on a site on the River Conwy Estuary, where golf had been played since 1869, is one of them, a links course that has had a fascinating history. It was used as a military training site in World War I and nearly destroyed; it was again a military site in World War II, a place used to build the prefabricated harbors, called Mulberry Harbours, at the back of the second green, which were used in the invasion of Normandy on D-Day. (Hence Williams' work to improve the second green, replacing work done after WWII.)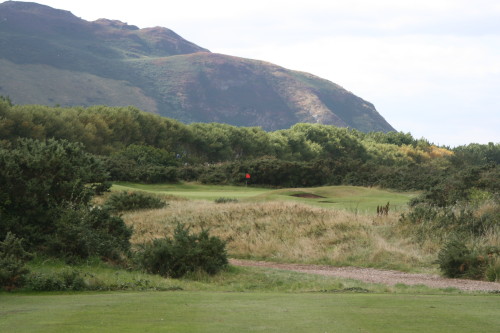 The par 3 15th hole at Conwy Golf Club, Conwy, Wales.
A freeway extension in the 1980s required a course redesign. Now, over the last half-dozen years, Williams has influenced changes to ensure that the course, which in the view of some club members had become too tough after the 2006 Open qualifier, remains playable, by widening fairways on the very tough (and still tough) closing holes of 16, 17 and 18 — all par 4s — and making the bunkers shallower.
"The course had become difficult to the point where members said 'this is ridiculous,'" Williams said. "If you want to keep members and if you want visitors to come back, you don't want them to lose 10 golf balls. …
"It's quite easy to design a golf course that's too difficult. The challenge is getting the balance right. … You don't want to beat people up."  (For the record, Williams' favorite historical architects are Harry Colt and AW Tillinghast; the modern architect he admires most is Pete Dye.)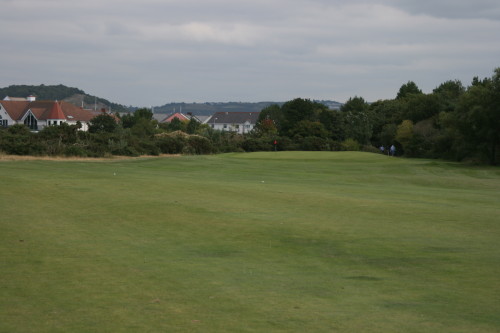 The narrow 16th hole at Conwy Golf Club, Wales.
Certainly, Conwy is a challenge — a relatively flat course, with gorse and thick rough and capricious bounces, with the wind generally always a factor. Playing 6,667 yards from the white tees, 6,476 from the yellows, and nearly 7,000 yards from the tips, Conwy features par 4s that seem like par 5s, doesn't have a par 5 until the ninth (which begins a stretch of three of them in four holes and four in six).
"I think it has a good spread of holes," said Williams, who plays to an 11. "There are very few birdie holes, very few holes that you walk off disappointed with a par. …
"It's a tough golf course when the wind blows. Until you put it on the green on 18, your battle is not over."
I played Conwy Golf Club on Wednesday, thanks to the courtesy of Visit Wales, in the person of Jane Harris, with three Northwest journalists from the Seattle area — Blaine Newnham, the former sports editor and columnist of the Eugene Register-Guard and the longtime columnist for the Seattle Times and author of  "America's St. Andrews" about U.S. Open site Chambers Bay; Tom Cade, senior director of communications for the Pacific Northwest Golf Association and editor of Pacific Northwest Golfer Magazine, who plays to a 2 handicap, and Rob Perry, of Bellevue, Wash., a professional golf photographer  who plays to a 3.6.
(As we began play, Amy Boulden, the 2014 rookie of the year on the European Women's Tour, was practicing on the course.)
On a mostly sunny day — one of the best of the year, locals said — Perry was again the star of our group, with four-over 76 from the whites. Cade shot 80. Newnham again won the match of former Register-Guard sports columnists, who played from the yellow markers, though they were hardly scintillating performances, and Bellamy lost five more golf balls, finding one. (Two day Wales totals — lost six, found two.)
The course earned our respect, and admiration.
Thanks to Visit Wales, we're staying at Bodysgallen Hall, a remarkable place that deserves a few words for the quality of the place, including the fine dining.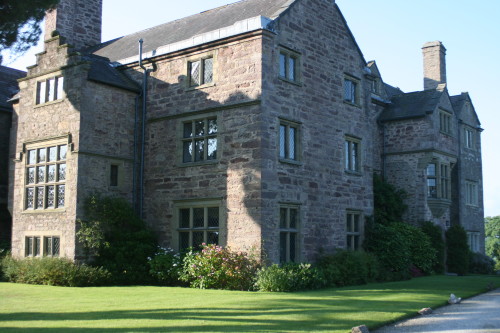 Historic Bodysgallen Hall near Llandudno, Wales.
Part of the National Trust, to ensure its ongoing preservation, Bodysgallen — pronounced "Bodice-gatlin" — Hall is considered one of Britain's top country house hotels. The oldest part of the house, which sits on 220 acres, dates to 1620; owned by two families throughout much of its existence, it was sold and became a bed-and-breakfast in 1969, and sold again and reopened as a hotel in 1981.  It was been restored, decorated with old paintings and antiques, and there's a separate spa on site, and classic gardens.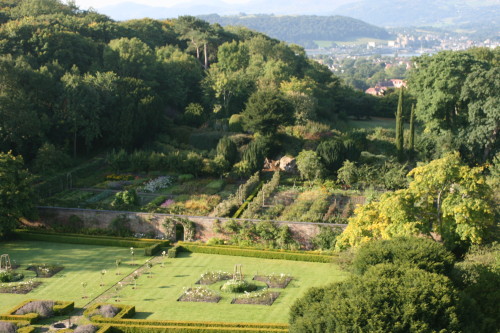 The gardens at Bodysgallen Hall, Llandudno, Wales.
The hotel, which features a tower with a commanding view to Conwy and Llandudno, consist of 15 rooms in the main house, 10 cottages and six rooms near the spa. Room rates range from 179 pounds to 425 pounds ($275 to $650) for rooms to suites in the main house, and 220 to 405 pounds ($340 to $620) for cottages, depending on size. Dinners are outstanding, service is Old School formal, and it's all quite an experience.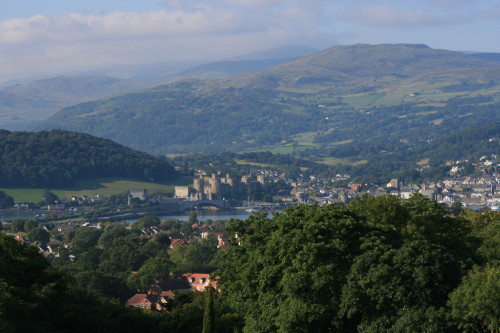 Conwy Castle and the mountains of Snowdonia, as viewed from the top tower at Bodysgallen Hall, Llandudno, Wales.
---
Tags …