Blaine Newnham: Writing the book on Chambers Bay
A former R-G sports editor crafts a remarkable tale about Chambers Bay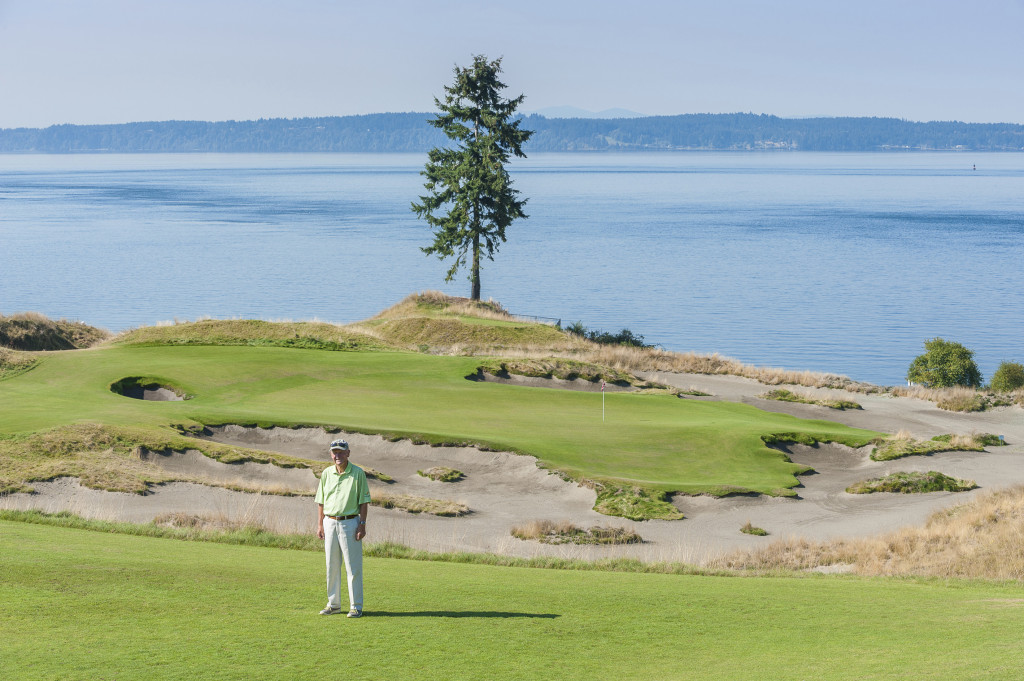 UNIVERSITY PLACE, Wash. — Five years ago, Blaine Newnham began writing a book about the history and development of Chambers Bay, the publicly owned links golf course south of Tacoma that opened in 2007 and will host the U.S. Open next June.
But the elements that went into Newnham creating "America's St. Andrews," a coffee-table book available in bookstores Wednesday, go back much farther than that.
Start with Newnham's distinguished career in sports journalism, including 11 years as sports editor and columnist for The Register-Guard — when he covered the Kamikaze Kids, the life and death of Steve Prefontaine, and the annual struggles of Oregon football — and 23 years as associate editor and columnist for the Seattle Times, so that he understood a special story when he saw it. And the story of the world-class golf course built by public funds on the ravaged site of a gravel quarry overlooking lower Puget Sound and then being awarded the U.S. Open in its first year of existence is certainly that.
It is truly a Pacific Northwest story, too, the first U.S. Open to be played in the Northwest, and Newnham, at 72, has spent more than half his life here, over 40 years now, and lives across the water from Seattle, where he can pull Dungeness crabs from the sound.
It's a golf story, fundamentally, and who better to tell it than a writer who has covered 20 golf majors, and who can argue, as an eyewitness, that Ben Hogan hit the ball better than Tiger Woods. A writer whose love for links golf, where the vagaries of the elements and the land are so much part of the challenge, has taken him to Ireland and Scotland a half-dozen times, and who has developed a keen understanding of golf course architecture.
And there's the fact that Chambers Bay is not just publicly owned, a muni, but very much open to public with a bike path that runs through it, hosting a steady stream of walkers and joggers and reminding Newnham of the way the Old Course at St. Andrews in Scotland is so accessible to the citizenry.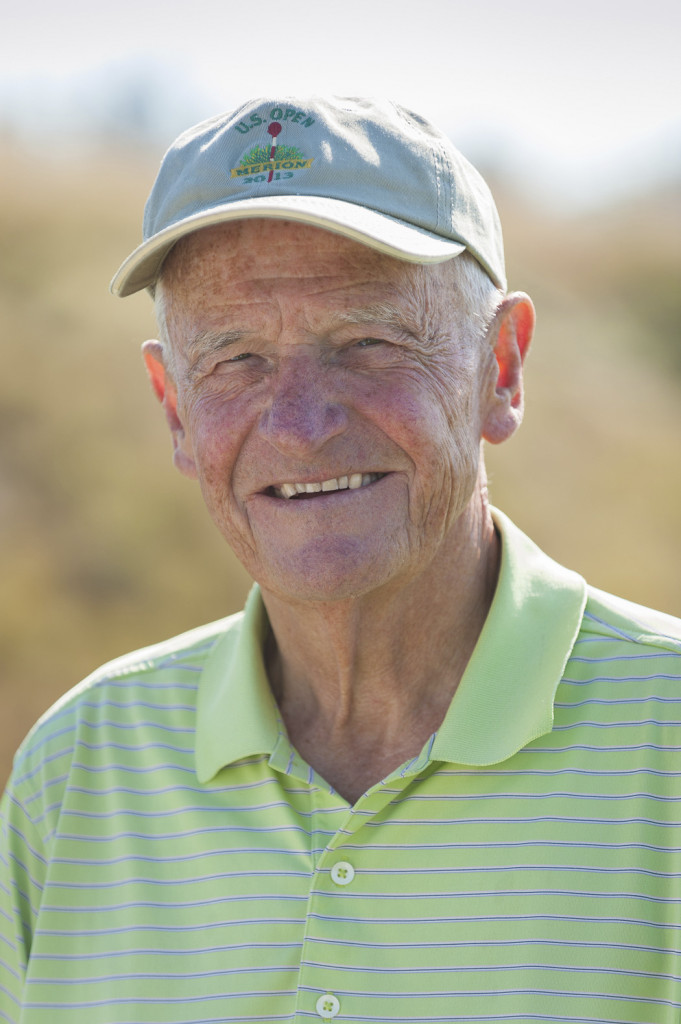 Because for all the famous golf courses that he has played — and he has teed it up at Augusta National and Pebble Beach and Ballybunion — Newnham prefers unpretentious but well-crafted courses the average golfer (in skill and resources) can play, and so among his favorites he still lists Tokatee, the picture postcard course near Blue River that he first played when he came to The Register-Guard in 1971 and began infusing the sports section with an award-winning philosophy that endures to this day.
(Tokatee was the site of one of Newnham's most cherished rounds ever; in celebration of his retirement from the Times in 2005, he played with Rich Brooks, the Oregon football coach during his tenure in Eugene; Jon Anderson, whose dramatic run to the 1972 U.S. Olympic team in the 10,000 meters Newnham had chronicled, and Al Mundle, the highly respected Northwest golf teacher.)
What made Newnham the quintessential Eugene sports columnist was the way he connected with his readers and the community. He would often sit in the stands late in football games at Autzen Stadium, as the seagulls started to swarm, to hear the thoughts of fans, often grumbling back in those days.
That approach has characterized his approach as a golf writer. In retirement from daily journalism, he writes for Cybergolf.com and other publications, and his body of work has earned him the Distinguished Service Award from the Northwest Golf Media Association.
"I don't think Blaine really understands his stature as a golf writer," said Tom Cade, the book's editor and publisher, and the senior director of communications for the Pacific Northwest Golf Association. "I don't think he gets it at all. He doesn't understand how much respect he has among other golf writers, and how much experience he has."
For the love of the game
Newnham lettered in golf as a high school senior in Hayward, Calif., but was not a prodigy; in adulthood, he once got his handicap down to 9.8, but for most of his life he's hovered around 15, and now is about a 16. He shot 85 on a good day in high school and shoots 85 on a good day now — though he did card a 77 last year at Gamble Sands in Central Washington — and that perspective helps shape his view of golf course architecture.
"I'm fascinated to know what the architect is trying to do," he said. "A lot of it has to do with my own limitations. I don't hit it very far or very well, so I try to find out why they sometimes penalize poor golfers when they hadn't ought to be doing that. And I think they're finally waking up to that fact. … The game is so difficult. When you get the ball on the green, why should you be looking at a really difficult putt? I've had some putts eight feet from the hole and I'm trying to figure out how to two-putt. If you can get it on the green, you should be able to have fun."
In his career as a sports journalist, Newnham can say that he once talked golf with Willie Mays, then in his prime as the Giants star center fielder. That he watched a Stanford freshman named Tom Watson hit balls on the practice range. That he played a round at Merion, the historic course near Philadelphia, with two other sportswriters, on a day the course was otherwise closed.
In 1966, the Hayward Review newspaper sent Newnham to cover one of the early rounds of the U.S. Open at the Olympic Club in San Francisco. He looked at the tee sheets, saw Ben Hogan playing with Ken Venturi and Frank Beard, and followed that group for 18 holes. Hogan, a four-time U.S. Open champion, was 53 and his hands shook so badly when he putted that "you almost didn't want to watch," but when Hogan swung a club it was wonderful, the contact making that special sound of perfection. Hogan finished 12th. At 53.
Newnham didn't cover another major until 1986, when he saw Greg Norman win the British Open at Turnberry. That got him in a rotation of covering majors, for the Times — he was there when Larry Mize chipped in to win the Masters, when Payne Stewart won the U.S. Open, when Tiger Woods won four straight for the Tiger Slam. Turnberry was his first experience with links golf, a defining moment in his evolution as a golfer and a golf writer.
"I try to figure out why I like links golf so much, and there are a lot of reasons," he said. "It's authentic. It's not all about GPS distance things and new drivers and the six-pack of beer and riding in a cart. It's got a whole different feel to it.
"I remember when we were in Ireland once this guy next to me said, 'Yesterday we played and it was a four-club wind.' And the starter looked at him and said, 'You mean you played golf.' If the wind's not blowing and the conditions aren't tough and you don't have to figure things out yourself, it's not golf."
Newnham very much respects Oregon's Bandon Dunes, where owner Mike Keiser has developed four different courses, each superb, and always put golf first, understanding that "you don't put the clubhouse down on the ocean, you put the best holes down on the ocean."
If Newnham, with his feeling for golf course design and affinity for links golf, could have designed a golf course, one that would be a challenge to the best players but playable by golfers of more modest skills, without the contrived forced carries that mark the courses that set out to be difficult on principle, it would be a lot like Chambers Bay.
'America's St. Andrews'
Newnham marvels at the creativity that went into the design of Chambers Bay, with a vision that included attracting such events as a U.S. Open. The gutted-out quarry gave designer Robert Trent Jones Jr. a blank canvas, and in the $20.7 million project he created a masterpiece.
"It has probably better views than any course I've ever played," Newnham said. "Of course, Pebble Beach has four or five holes along the ocean that are just stunning, but this course you see almost everything from everywhere all the time. It's pretty amazing."
The book's title, Newnham said, sought to make a specific point.
"The title of the book is audacious, to say the least," he said. "How can you possibly compare some county course in Tacoma with St. Andrews? But you go to Augusta National and you can't even get down Magnolia Lane to take a look at the golf course. Here, you can walk the path, the course is basically open. I was at St. Andrews a year ago around 7:30 at night and walked out to the Swilcan Burn and crossed the bridge, and people were walking across to go to the beach. It's wide open."
The book is dedicated to the late Eugene photojournalist Brian Lanker, who was The Register-Guard's photo chief when Newnham was sports editor, and who gave Newnham and Cade valuable insights in the weeks before he died in 2011.
"He reminded us often that it wasn't about sunsets and silhouettes, but about telling a story," Newnham wrote.
The book does that, combining archival and current photos with informative chapters about the transformation of the gravel pit to the site of the U.S. Open.
"It's a small picture book, a coffee-table book, with a lot of beautiful pictures but a lot of information," Newnham said. "It's not a preview of the U.S. Open. It's a story about how this happened."
Told by, for this story, the absolutely perfect storyteller.
"America's St. Andrews" retails for $39.95 and can be purchased online at www.americasstandrews.com, and in bookstores starting Wednesday.
THE NEWNHAM FILE
Majors covered (with winner): U.S. Open in 1966 (Billy Casper), 1997 (Ernie Els), 1998 (Lee Janzen), 1999 (Payne Stewart), 2000 (Tiger Woods), 2010 (Graeme McDowell). Masters in 1987 (Larry Mize), 2000 (Vijay Singh), 2001 (Tiger Woods), 2002 (Tiger Woods), 2003 (Mike Weir), 2004 (Phil Mickelson), 2005 (Tiger Woods). PGA in 1997 (Davis Love III), 1998 (Vijay Singh), 2000 (Tiger Woods). British Open in 1986 (Greg Norman), 1998 (Mark O'Meara), 2000 (Tiger Woods).
Most famous courses played: Cypress Point, Merion, Pebble Beach, the Old Course at St. Andrews, Augusta National, Ballybunion in Ireland, Royal County Down, the Olympic Club, Royal Portrush, Royal Dornoch.
Favorite courses: Tokatee, Royal Porthcawl in Wales, Royal Dornoch, the Bandon Dunes course at Bandon Dunes, Cruden Bay in Scotland and Gamble Sands in Central Washington.
On the bucket list: North Berwick, Scotland.
---
Tags …
"America's St. Andrews"
,
Al Mundle
,
Augusta National
,
Ballybunion
,
Ben Hogan
,
Blaine Newnham
,
brian lanker
,
Chambers Bay
,
Cruden Bay
,
Cybergolf.com
,
Cypress Point
,
Gamble Sands
,
Ireland
,
Jon Anderson
,
Kamikaze Kids
,
Merion
,
Mike Keiser
,
North Berwick
,
Old Course
,
Pebble Beach
,
rich brooks
,
Robert Trent Jones Jr
,
Royal County Down
,
Royal Dornoch
,
Royal Porthcawl
,
Royal Portrush
,
Scotland
,
Seattle Times
,
Steve Prefontaine
,
the Old Course at St. Andrews
,
the Olympic Club
,
Tiger Woods
,
Tokatee
,
Tom Cade
,
U.S. Open
,
Wales