Wales, day one: North Wales Golf Club, classic links, classic value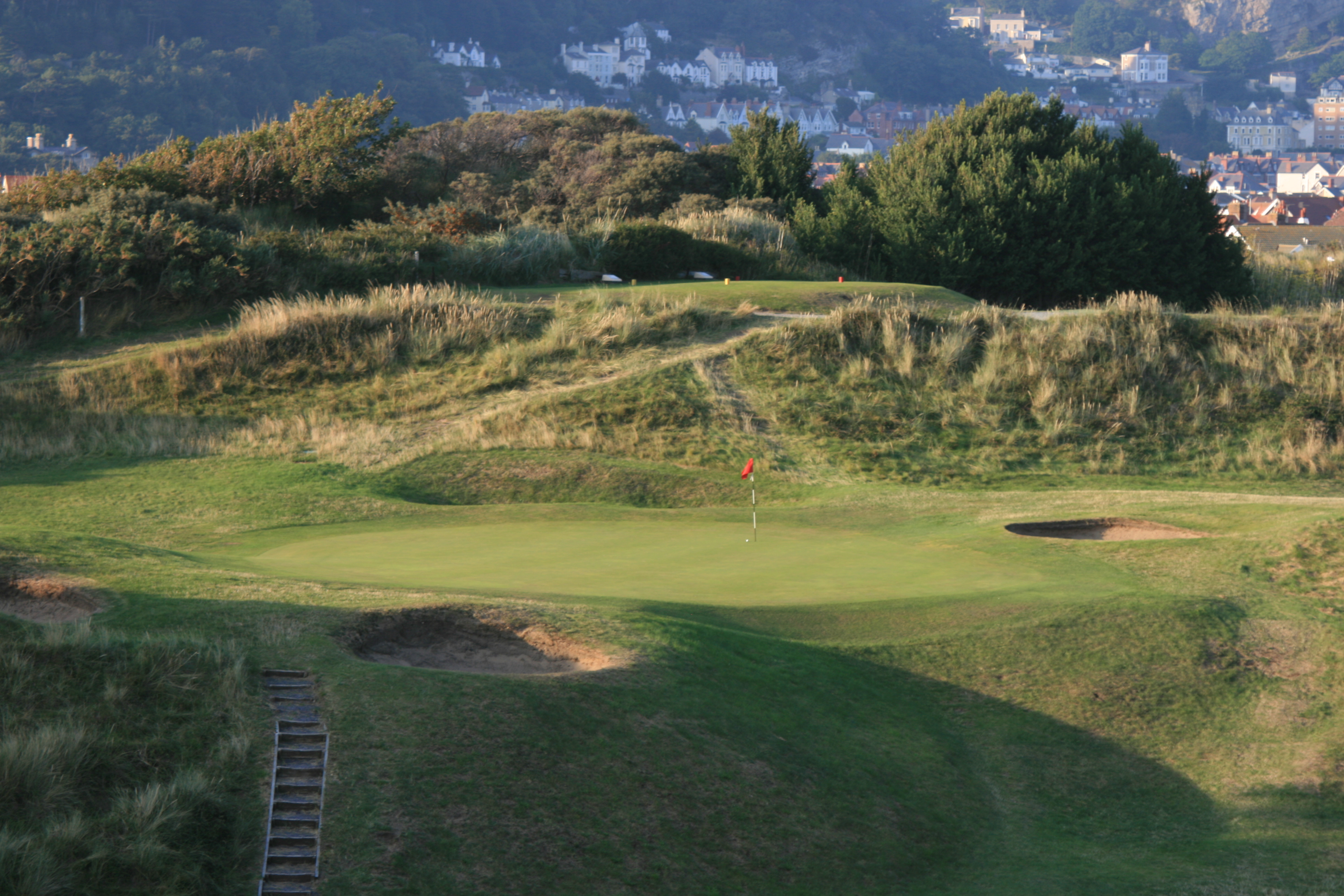 Around for over 120 years, and still relevant
LLANDUDNO, Wales — In the northern part of Wales, on Conwy Bay of the Irish Sea, is the bustling resort town of Llandudno, billed as Wales' premier resort, known for the beach and quaint shops and hotels, and for the Great Orme, a massive limestone mound that rises 680 feet above the town and where tram rides to the top are offered for the view.
Nestled in Llandnudo, with a store-front clubhouse in a residential area, an edifice that would be right at home at any local muni in the states, is North Wales Golf Course, where golf has been played for more than 120 years.
It is a classic, traditional links course, "true links," said Richard Bradbury, who has been club pro here for 30 years, and indeed, in England, Scotland and Wales, golf courses grew up around towns and villages, and from the course at North Wales you can see houses with red-tiled roofs, conjuring a village in Italy or France, a very European feel.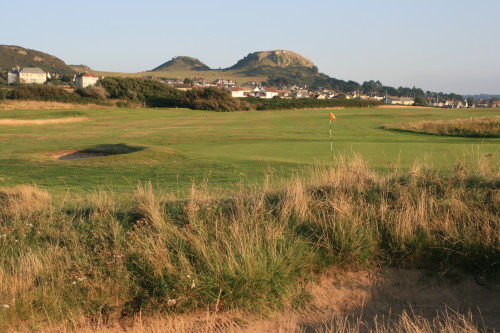 The No. 6 hole at North Wales Golf Club in Llandudno, Wales.
The course is unpretentious, almost blue-collar (again, think muni), though tough enough, and certainly linksy enough, and authentic at that. The fairways are undulating, there are some blind shots (and a couple of observation towers, from which to watch your partner's tee shot).  There are some dunes — No. 16 and 17, back-to-back par 3s, are tucked in dunes, and share the same hollow, one that conjures the famous "Mass Hole" at Waterville in Ireland.
There are holes along the bay, and holes along a railroad track, the course crammed in there; the greens and narrow fairways are smooth enough, but there are a lot of hard, rough spots on the sides, as there were since the 1800s on the old links courses, and the course changes with wind and weather. (Right now, with the course dry, the rough is somewhat more playable.)
"We're very lucky," Bradbury said. "Every day the scenery is different."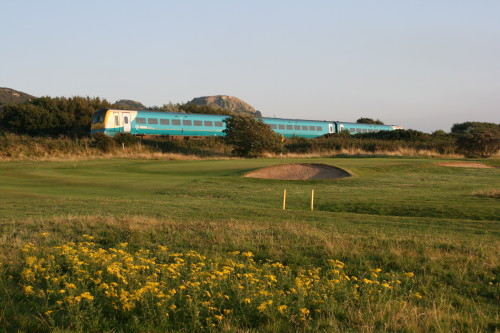 A train runs in the background of the No. 4 hole at North Wales Golf Club in Llandudno, Wales.
A golfer from the United States probably wouldn't make North Wales Golf Club a destination, like Bandon Dunes Golf Resort on the Oregon Coast, or the famous courses in Scotland and Ireland, and in fact most of the course's customers come from the United Kingdom.
But consider this: While the rack rate at Bandon Dunes on Tuesday was $310, and the cost at Old Head in Ireland was $250, the weekday rate at North Wales Golf Club was 35 pounds, or about $53.
So, the question is, would you make the journey not to play just one course just once, for a big price, but to play several courses for a lesser amount, and maybe several times over, especially when those courses are packed together, with minimal distance between them, and there are four courses within 10 minutes drive from here.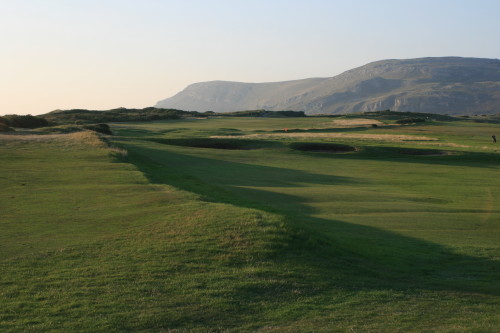 The 10th hole at North Wales Golf Club in Llandudno, Wales.
"It's ridiculous, it's crazy," Bradbury said. "The value for the money in North Wales is great. Golf here is very undervalued."
We'll see that, in the next few days, playing a range of courses in north Wales — Conwy, Nefyn & District, Porthmadog, Royal St David's and Aberdovey.
"I think we're a little bit of a well-kept secret," Bradbury said. Llandudno "is really fantastic as a destination," and Wales, with its castles and rugged mountains, is a unique world.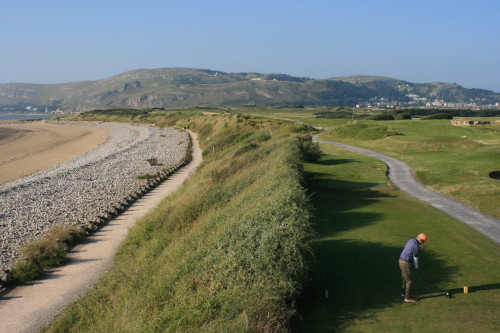 Blaine Newnham tees off on the par 4 No. 10 hole at North Wales Golf Club.
North Wales Golf Club was founded in 1894; the front nine runs along a railway line, the homeward stretch comes back along the coast. According to club history, founder Tancred D. Cummins named each hole. The par 3 13th, a  short hole playing directly into the prevailing wind he named "Hades." The Church Commissioners from whom he purchased the land requested that the name be changed, as it was inappropriate to have such a name when the land had connections with the church. Cummins refused the request, but he did name the 18th "Paradise." The names remain to this day.
I played North Wales on Tuesday, thanks to the courtesy of Visit Wales, in the person of Jane Harris, with three Northwest journalists from the Seattle area — Blaine Newnham, the former sports editor and columnist of the Eugene Register-Guard and the longtime columnist for the Seattle Times and author of  "America's St. Andrews" about U.S. Open site Chambers Bay; Tom Cade, senior director of communications for the Pacific Northwest Golf Association and editor of Pacific Northwest Golfer Magazine, who plays to a 2 handicap, and Rob Perry, of Bellevue, Wash., a professional golf photographer  who plays to a 3.6.
(We're staying at the amazing and historic Bodysgallen Hall, considered one of Britain's top country house hotels; a lot more on that in the next update.)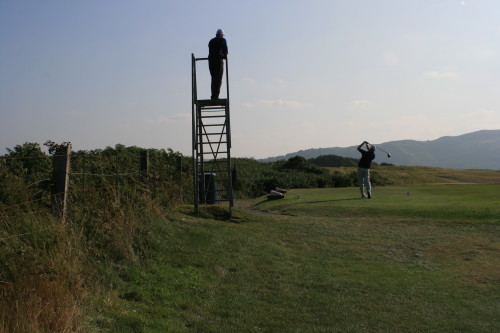 Tom Cade follows Rob Perry's tee shot from a siting tower on No. 8.
The course is challenging but not unfair, with very tough par 4s, and great views of bay and town. On a warm, sunny day, with little breeze, Cade had three birdies for an 81 from the white tees, playing 6,254 yards at a par of 71;  Newnham, playing the yellow tees, 5,883 yards, carded an impressive 87 and easily won the match of former Register-Guard sports columnists to go 1-up for Wales.  (Bellamy lost a ball, found a ball, and managed just one par.)
It's a course that's best played twice, Bradbury said, given that a bit of course knowledge definitely helps, in a course that's very much worth knowing about.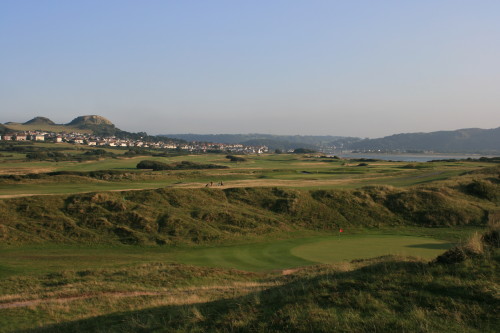 The scene at the 16th green and beyond at North Wales Golf Club in Llandudno, Wales.
---
Tags …