Pete Scholz: Mastering the Rules of Golf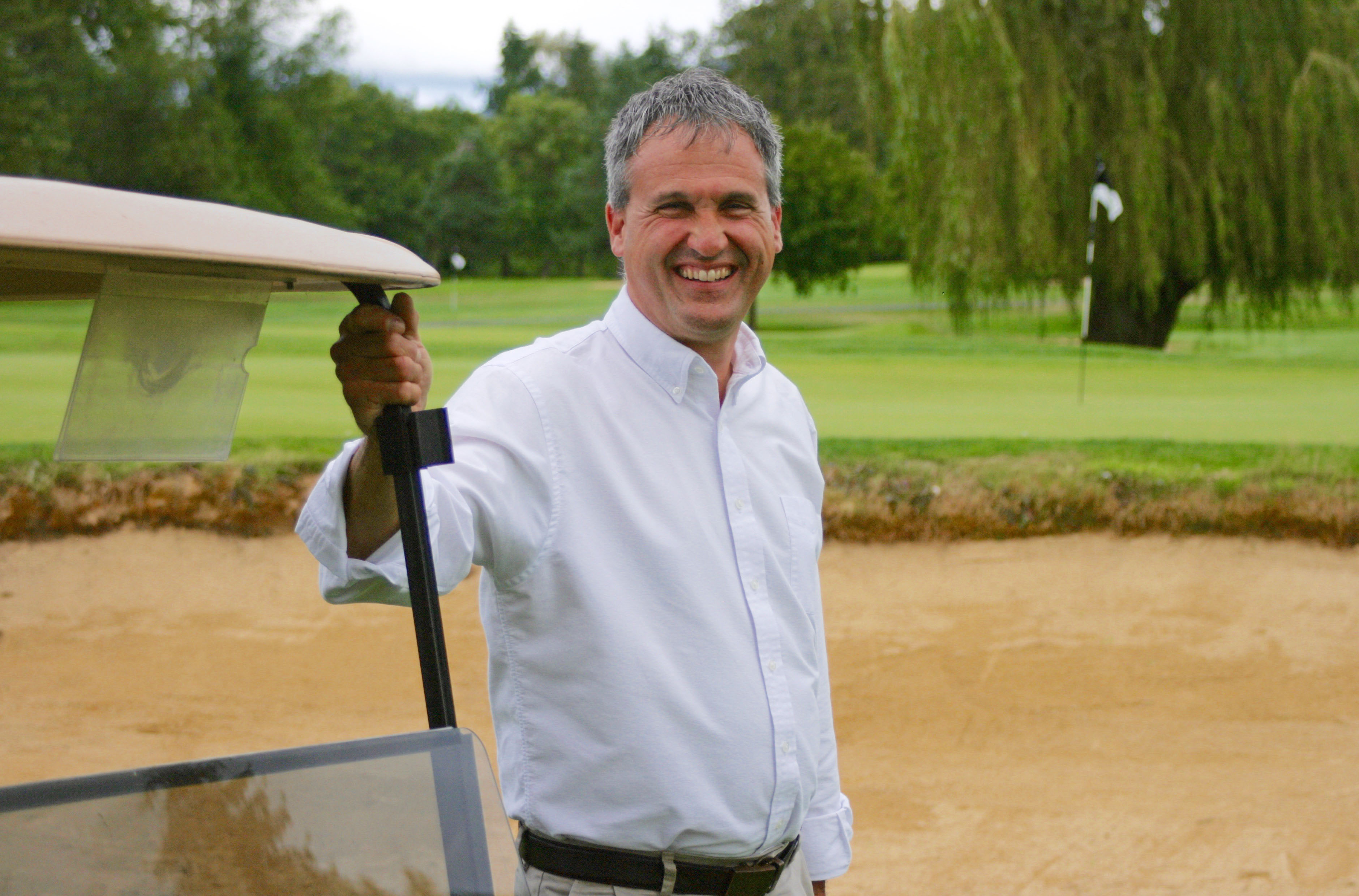 Highly respected rules official aces tests in classroom, and on course
Five mornings a week, Pete Scholz stops into the Starbucks on Mohawk Boulevard or Coburg Road and spends an hour reading, studiously, as if preparing for a test.
His book: The Rules of Golf.
His final exams come both in the classroom, where Scholz has scored four consecutive perfect scores on a grueling Rules of Golf test administered by the U.S. Golf Association and the Professional Golfers of America, a performance considered extremely rare if not unprecedented, and on the golf course, where the 56-year-old freight truck driver from Springfield has become one of the top rules officials in Oregon, working events as a volunteer for the Oregon Golf Association, the Oregon School Activities Association, and for the USGA and NCAA as well.
In a year in which USGA rules officials have found themselves in the spotlight for decisions in both the U.S. Open and the U.S. Women's Open, Scholz had his own high-stress situation last May in the final round of the OSAA Class 4A boys championships at Emerald Valley Golf & Resort in Creswell.
On the 18th hole, a Marshfield golfer, believing that his approach shot from 60 yards had bounced out of bounds behind the green — in part because a similar shot the previous day had bounced out of bounds — accepted the stroke-and-distance penalty and played another ball without declaring it to be a provisional shot. However, his first ball had, in fact, remained inbounds, and upon discovering that — and being told by coaches from other schools that his original shot was OK — the golfer picked up his second ball.
Scholz, who had been elsewhere on the course, arrived to sort out a mess.
"I've heard it explained this way," Scholz said, "that being a rules official is a lot of time studying, and then working the tournament, and most of the tournament is quite boring, and then there are a few moments of sheer terror, where you certainly affect the outcome of a player's results."
Although Scholz allowed the golfer to finish by holing out both balls, permissible in stroke play, pending a post-round review, his original reading of the situation ultimately prevailed: By failing to declare a provisional ball, the golfer had "abandoned" his first ball and then incurred another penalty stroke when he moved the second ball, which was now the ball in play.
The Pirates, who had charged into title contention, finished second by a stroke.
Marshfield coach Scott Banks said Scholz handled the situation correctly.
"Pete made the correct call as far as the rules of golf," Banks said, noting that after the round Scholz patiently and clearly explained "step by step" what the rule was and what should have happened. "We learned from that experience," Banks said.
The experience has stayed with Scholz, too.
"It was terribly unfortunate the way it all transpired," he said. "I felt the ruling was right, but they still bother you. You have a young golfer going away pretty upset. Do I lose sleep on it? Yes. The way that transpired affected the outcome for that team and I don't take that lightly. It's why we always try to get it absolutely right, and call other people, get as many minds on it as possible."
Scholz, who took up golf at age 30 and plays to a 15.4 handicap, became interested in the rules roughly a decade ago when he read a newspaper story about Don Kowitz, a prominent OGA rules official who ultimately became a mentor. Inspired, Scholz began studying, as much as two hours a day during a period when shoulder injuries curtailed his work schedule.
"For one, it's hard," Scholz said of his fascination with the Rules of Golf. "I'm a little bit more of an analytical type of person. There are a lot of rules that override another one, and to keep it all straight takes a certain amount of time. I truly believe anybody can learn the rules. But it absolutely takes time."
Scholz studied more than two years and in 2008 attended a USGA/PGA rules workshop, which consists of several days of class work followed by a 100-question test that takes more than three hours. Scholz scored 89, above the average for first-time test takers, and began volunteering as a rules official. He's attended the workshops and taken the test five more times, the last four with perfect scores, most recently February in Las Vegas. He is believed to be the only current official in the country with such a track record.
So respected is Scholz for his grasp of the rules that he's frequently consulted by other officials to discuss situations. With Salem rules official Terry McEvilly, Scholz co-authors rules articles for the OGA website and they stage workshops over the winter. They were named OGA volunteers of the year in 2013.
Scholz's experience as a rules official includes working the U.S. Open qualifier at Emerald Valley when Casey Martin reached the U.S. Open in 2012; the inaugural USGA Women's Four-Ball tournament last year at Bandon Dunes; various OSAA championships and collegiate events; and for the past five years or so, refereeing the final 36 holes of match play in the Oregon Amateur, an assignment that OGA director of tournament operations Brent Whittaker figures appropriate for "the best rules official in the state."
"He's really grown," Whittaker said. "Refereeing in golf is a lot different than any other sport. We're not basketball refs or football refs where we're blowing a whistle and calling fouls. It's a completely different animal.
"I think when he first started out as a rules person, he had more of that mentality of being a basketball ref, which can be a little confrontational. He really worked hard on that, and worked on his communication skills, taking classes and reading books to learn how to communicate better, especially in conflict resolution.
"He's great. I've seen him in certain situations that can be really tense talk both players down, and come across from a very authoritative tone what the rule is, and how the rule is addressed, but it doesn't come across as offensive. It's perfect."
Said Scholz: "I try to speak to the golfer as I would want to be spoken to. I'm just here to interpret the rules, and a lot of times unfortunately the rules dictate that the golfer has a penalty. It's unfortunate, but it's part of the game."
In tournaments, some penalties can be avoided with timely consultation with a rules official, and those saves please Scholz greatly.
"My goal in every tournament," he said, "is to walk away at the end of the tournament and get every golfer through without incurring penalties."
---
Tags …