Wales, revisited: Looking back on six memorable golf courses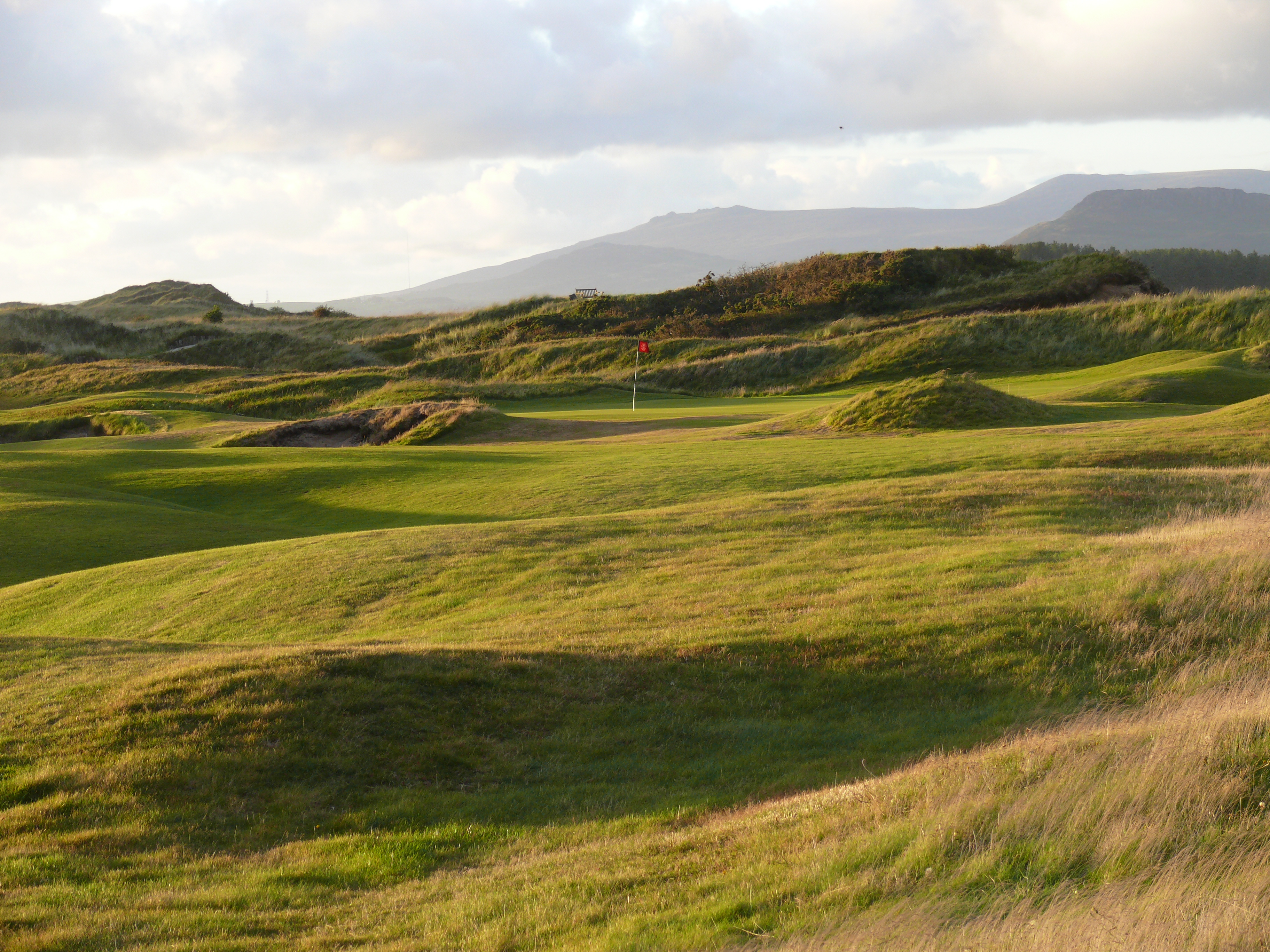 The No. 17 green and fairway, Royal St. David's Golf Club, Wales.
Great values, history and more than just golf
HARLECH, Wales — At Royal St. David's Golf Club, you look to the cliff above and see Harlech Castle, built by King Edward I beginning in 1283 and now considered a World Heritage Site, with places like the Taj Mahal and the leaning Tower of Pisa.
When the fortress was completed, the waves of the Irish Sea crashed on the rocks below.
Over the centuries, the sea receded, and huge sand dunes were formed, and in 1894, on the flat land between the cliff and the dunes, a golf course was created, a course inspired by St. Andrews in Scotland, and a course that drew royalty and hosted championships.
When you play Royal St. David's, said to be the toughest par 69 anywhere, you never see the sea, unless you climb an observation platform on the 16th tee, but you hear the waves on every hole, the same way King Edward VII must have heard them, when he granted his patronage in 1908, and the same way the Prince of Wales must have heard them, when he captained the club in 1934, before becoming King Edward VIII.
From Royal St. David's you can take your golf clubs on the train — the tracks run between the course parking lot and the course itself, and the Harlech depot is nearby — and ride an hour south along the coast of Cardigan Bay to another Mid Wales village, Aberdovey, where there's a depot just a few paces from the first tee at Aberdovey Golf Club, founded in 1892.
Or, you can drive from Harlech to Aberdovey — Aberdyfi in Welsh — through lush green countryside, past stone cottages towered over by steep, rocky mountainsides, where white, long-tailed sheep graze on high, fenced by stone walls that seem to stretch to the sky.
Writing in the early 1900s, Bernard Darwin, grandson of the naturalist Charles Darwin and the first regular golf writer for a newspaper, the Times of London, wrote that Aberdovey was the course his "soul loved best of all the golf courses in the world."
Earlier this month, I played both of those courses, as well as four courses in North Wales, beginning with unpretentious North Wales Golf Club, in the resort town of Llandudno, where the writer known as Lewis Carroll saw the inspiration for "Alice in Wonderland," and nearby Conwy Golf Club, formed in 1890, on a piece of land where golf had been played as early as 1869, a course near another of Edward I's castles and the historic walled city of Conwy, a course that was a qualifying site for the British Open in 2006 and that has hosted three European Seniors Tour events.
I played Porthmadog Golf Club, founded in 1905, where with the wind at his back a playing partner hit a 5-iron shot 229 yards off the tee and over the hidden green on the 202-yard par-3 No. 13 hole, and where the same golfer crushed driver into the wind on the 220-yard par three No. 11 hole and came up short.
I played Nefyn & District Golf Club, a course founded in 1907 and overlooking the Irish Sea, with eight holes on a peninsula, including the par-4 No. 13 hole, where you could hook a ball into the water on one side, or slice it into the water on the other, a course that conjured memories of the California coast near Pebble Beach and where I lost seven golf balls.
Along the way, on this golf adventure, I came to understand a bit of what Bernard Darwin must have felt.
Because if you're a golfer, chances are that you've heard of some of these courses, but they're not "trophy courses" like the Old Course at St. Andrews in Scotland or Ballybunion in Ireland.
Yet they are true links courses, with dunes and wind and gorse and thick rough and devilish bunkers and golden fescue framing fairways rolling with lumps and bumps, and you can play them for a fraction of the cost of the so-called trophy courses, in an area with much to offer for golfers and non-golfers, from history to picturesque villages to the scenery of Snowdonia National Park, with a range of lodgings and high-quality restaurants.
"A well-kept secret"
"The value for the money in North Wales is great," said Richard Bradbury, head professional at North Wales Golf Club, which dates to 1894. "Golf here is very undervalued. I think we're a little bit of a well-kept secret."
Certainly, the price is right once you get there. Consider that at a time of year when the rack rate to play Bandon Dunes Golf Resort on the Oregon Coast is $310, and the tariff at Old Head in Ireland is $250, weekday rates at the courses we played ranged from roughly $53 (converting from British pounds) at North Wales and $57 at Porthmadog (pronounced Port-Mad-Oc) to $70 at Conwy and Nefyn, and $100 at Harlech and Aberdovey.
David Williams, the current captain at Conwy and a golf architect who has designed about 30 courses, said that "people don't necessarily think of Wales and golf," noting that of the 8,000 visitors to Conwy Golf Club each year, perhaps 20 to 30 are from the United States, and he was talking actual numbers, not a percentage.
Williams said that's "an issue" for Wales. And it's one those who care about golf and tourism in the nation — Visit Wales is the tourism and marketing division of the Welsh government — are trying to address in various ways, ranging from marketing to the development of new courses, such as a course built specifically to host the British Open (as Chambers Bay near Tacoma was constructed to attract a U.S. Open), which no Wales course has ever hosted, or the development of a trophy-type course in North Wales, which led Williams to study the possibility of putting a golf course atop the Great Orme, the limestone land mass that rises 680 feet over Llandudno.
Marketing approaches include the James Braid Trail, which promotes courses designed by the famous architect, including Aberdovey, Nefyn and Porthmadog, and the Snowdonia Golf Coast, including Nefyn and Royal St. David's.
There's a one-stop website for those who are planning a golf excursion to Wales: www.visitwales.com/golf.
"There are great golf courses, but they're not as well known outside Europe," Williams said. "I would say there are some great courses that if they were in other areas they would be better known."
In public perception, Williams said, when golfers think of the United Kingdom, "Wales is No. 4 when it comes to golf," behind Scotland, Ireland and England.
It was to help change that perception that Visit Wales invited four members of the golf media from the Pacific Northwest, including me, to play the courses.
Joining me were Blaine Newnham, the former sports editor and columnist of the Eugene Register-Guard and the retired longtime columnist for the Seattle Times; Tom Cade, senior director of communications for the Pacific Northwest Golf Association and editor of Pacific Northwest Golfer magazine, and Rob Perry, of Bellevue, Wash., a professional golf photographer. Golf-wise, we were two low-handicappers (Cade is a 2, Perry 3.6) and two not-low handicappers (Newnham 18, me 19) and so played two different tee boxes at each course.
The road to Aberdovey
Highlights of each course, in the order we played them:
North Wales Golf Club, Llandudno: The clubhouse is in a neighborhood, almost like a local muni, and the course is unpretentious, tough and "pure links," as Bradbury said. Wedged between railroad tracks and the bay, the course has undulating fairways and some blind shots (and a couple of observation towers, from which to watch your partner's tee shot). Holes No. 16 and 17, back-to-back par 3s, are tucked in dunes, and share the same deep hollow to catch short shots, conjuring the famous "Mass Hole" at Waterville in Ireland.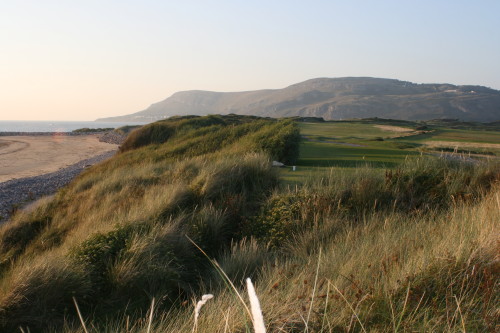 With the sea on the left, and the Great Orme in the distance, there's a lot to consider on this tee shot at North Wales Golf Club.
Conwy Golf Club: There's great history to this course, just a few minutes from Llandudno. It was used as a military training site during World War I, and as a site for the construction of a Mulberry Harbour — a floating harbor used in the invasion of Normandy — during World War II. Three iconic golf paintings by Douglas Adams in 1893 are set there. Interestingly, Williams said that the course has been made easier in recent years, the narrow closing holes starting at No. 16 widened, and I still thought it was quite difficult (in a good golf way). There are great views of the estuary and of the neighboring community, and a very European feel to the place.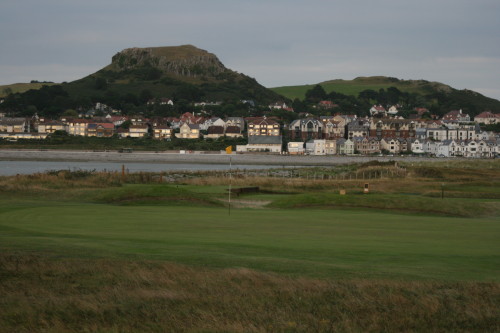 View of the River Conwy estuary and beyond at Conwy Golf Club, North Wales.
Nefyn & District Golf Club: Less than two hours' drive from Llandudno, and flat out the most spectacular scenery of the six courses we played in Wales. The course boasts that every hole — and there are 27 here, in three sets of nine — has a view of the sea, and it's dramatic. Eight holes on the back nine are on a narrow peninsula overlooking the Irish Sea on one side, and a bay on the other, and down below, in walking distance, is a pub. If you want amazing views, this is a can't-miss course, but it's also got its quirks — public walking paths through it and along the peninsula, where the 13th and 15th fairways are virtually shared in the cramped space, especially when those teeing off on No. 15 need to aim toward the 13th on the right to give safe passage to walkers on the left side, the more natural line for the shot.
The view behind the 13th green and fairway at Nefyn & District Golf Club, Wales, with the clubhouse in the distance.
Porthmadog Golf Club: A fairly short drive from Nefyn, on the Llyn Peninsula, the course is a tale of two nines. The newer front nine is heathland, with trees and a pond; the back nine is a wild and woolly links course, and the transition is far from gentle. (Originally, the entire course was links, but land was lost for preservation, and some holes "lost to the sea," said club secretary Gwilym Jones.) That stretch of nine holes has been labeled "a miniature Troon," and called "the most natural nine in Wales." On a windy day, it's an adventure.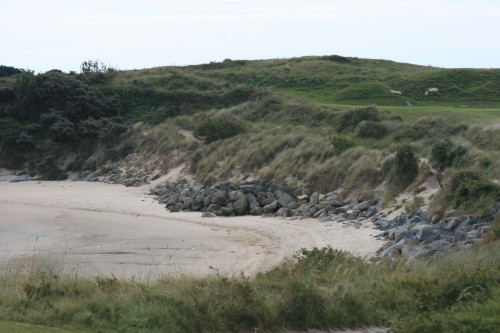 The short par 4 No. 12 hole at Porthmadog Golf Club, Wales.
Royal St. David's Golf Club, Harlech: A unique course, given its history and the overlooking castle on the cliff. It's also a high quality championship course, one that would like to host a Walker Cup or Curtis Cup, if only there was enough hotel space in Harlech. It's similar to Aberdovey in that you can hear the sea without seeing it because of the dunes; build that course today, and it would certainly be laid out through the dunes to open vistas of the surf. However, unlike Aberdovey, only once do consecutive holes follow the same wind direction, so you're constantly having to adjust club selection. And the way to get a par 69 is to have very, very demanding par 4s that stop at the fringe of being par 5s; Royal St. David's has just two par 5s, but seven par 4s of more than 400 yards, up to 454.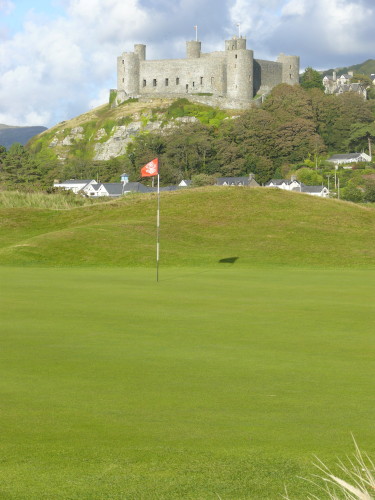 Harlech Castle is an ever-present image at Royal St. David's Golf Club, Harlech, Wales.
Aberdovey Golf Club: About an hour by train or car from Harlech, Aberdovey also has lodging on site, called Dormy, as does Royal St. David's. Darwin's favorite course is built on a long sliver between the dunes and the railroad tracks, nine holes going out (with the wind on the day we played), before turning and heading back (against the wind the day we played). In some ways, the most peaceful course we played, on a quiet Sunday afternoon with relatively little wind and gray skies giving way to late sunshine.
I had my best score in Wales there, an 88 with six pars and a birdie. Not bad, for a high-handicapper. Maybe it was Bernard Darwin, looking out for another old newspaper guy.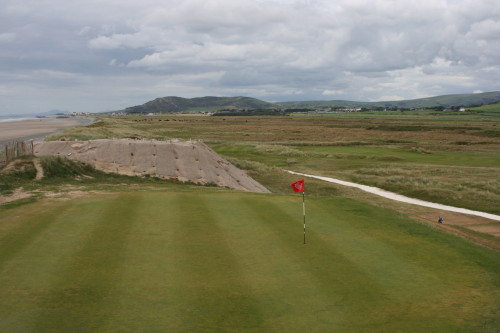 The 12th green, and view beyond, at Aberdovey Golf Club, Wales.
---
Tags …
"Alice in Wonderland"
,
Aberdovey Golf Club
,
Ballybunion
,
Bernard Darwin
,
Blaine Newnham
,
Charles Darwin
,
Conwy Golf Club
,
David Williams
,
Harlech Castle
,
James Braid
,
Lewis Carroll
,
Llandudno
,
Nefyn & District Golf Club
,
North Wales Golf Club
,
Pebble Beach
,
Porthmadog Golf Club
,
Richard Bradbury
,
Rob Perry
,
Royal St David's Golf Club
,
Snowdonia Golf Coast
,
Snowdonia National Park
,
St. Andrews
,
Tom Cade
,
Visit Wales