Tokatee Golf Club: Still halfway to heaven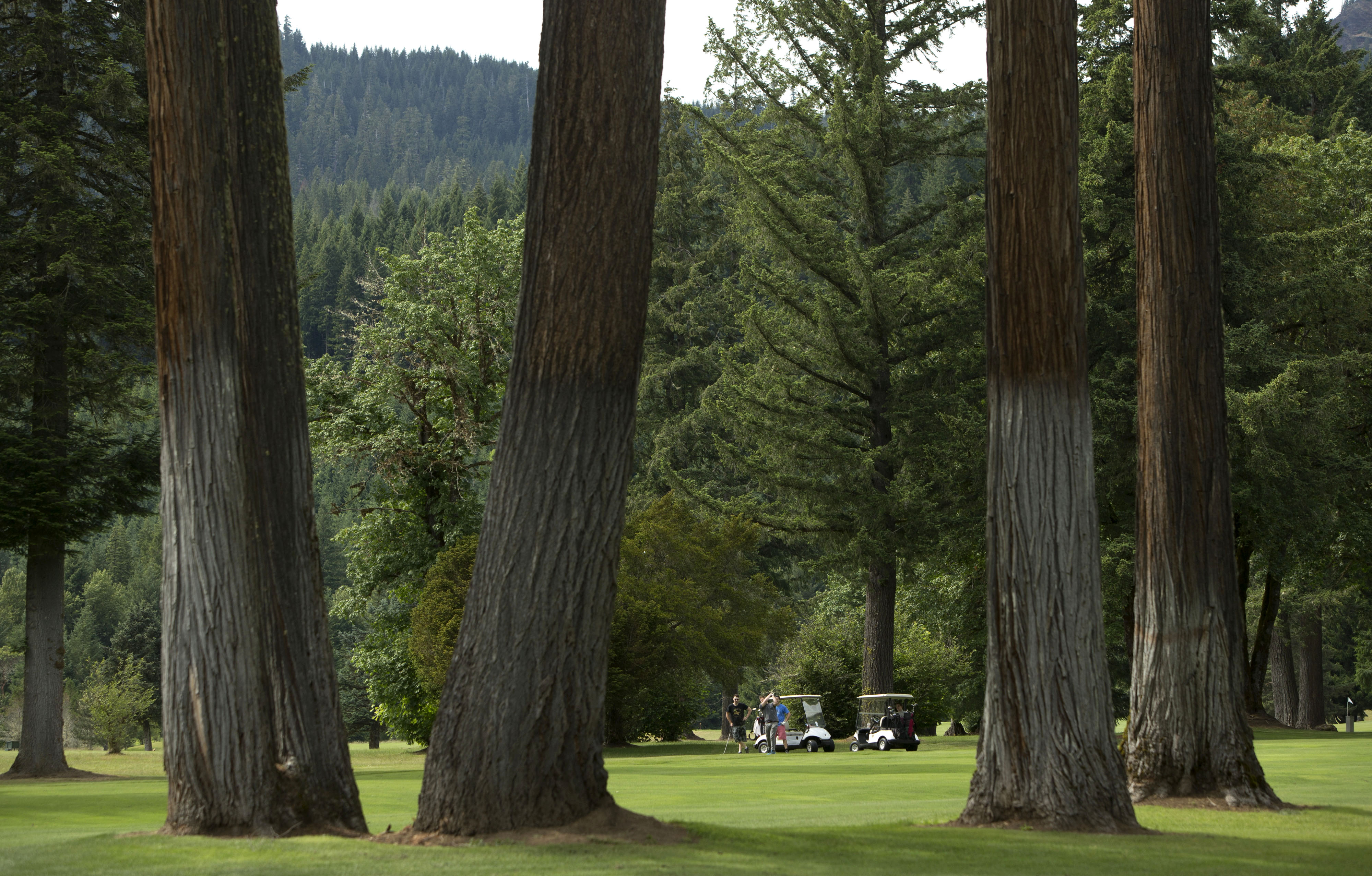 At 50, the golf course remains an almost 'spiritual' place
BLUE RIVER — The quintessential Eugene sports columnist, Blaine Newnham, wrote defining columns in the 1970s and early 1980s about the Kamikaze Kids, Steve Prefontaine and the struggles of the University of Oregon football team.
And, one day in the fall of 1971, shortly after moving to Eugene from Oakland, Calif., to become The Register-Guard's sports editor, Newnham wrote about a relatively new, unheralded golf course in the McKenzie River valley east of Blue River, a course he had just played for the first time.
"And on the eighth day, God hit a three-iron stiff to the pin on the 11th hole at Tokatee. And even if He three-putted, God couldn't get angry because even He had to be overwhelmed by what He created.
"No, it isn't irreverent to talk of God and a golf course in the same breath, not a golf course located halfway to heaven at the base of the picturesque Three Sisters. Playing golf at Tokatee isn't recreation, it's a revelation."
By then, Tokatee Golf Club had been an 18-hole course for just over two years. The first nine holes had opened five years earlier, on July 1, 1966. Southern Californian Ted Robinson designed the course, but its inspiration and philosophical foundation came from its founder Nat Giustina, the Eugene lumberman who took up golf in his early 40s and fell in love with the game.
As the course celebrates its 50th birthday next week — a celebration on the afternoon of Friday, July 1, that will include a sold-out scramble golf tournament, putting contests, music, food carts, a beer garden and fireworks at dusk — it remains much the same place, a peaceful enclave in the forest, the view of the Three Sisters unmarred by houses, the pro shop and restaurant welcoming and unpretentious, a family business within a family business.
Such is the continuing charm and beauty of Tokatee that Newnham, who in retirement has become one of the most respected golf writers in the Pacific Northwest, and who has played some of the most storied courses in the world, still lists it among his favorites, with courses such as Royal Porthcawl in Wales, Royal Dornoch and Cruden Bay in Scotland, and the Bandon Dunes course at Bandon Dunes.
He's not alone. Back in 1986, when Peter Jacobsen was staging his annual tournament in Portland, he took part in a news conference with Tom Watson, Arnold Palmer, Greg Norman, Gary Player, Fred Couples, Curtis Strange and Fuzzy Zoeller. The golfers were asked their favorite course and most listed Augusta National, but Jacobsen said he preferred playing Eugene Country Club, or Tokatee.
"I bet none of these guys even know where it is," Jacobsen said. "But I do."
By then, in 1981, Golf Digest had ranked Tokatee among the top 50 public courses in the country. By the early 1990s, the course saw 30,000 rounds a year despite closing from mid-November to February because of snow.
Now, the landscape has changed, in more ways than one. The view of the Three Sisters from the 16th tee remains spectacular, but a half-century of growth by the Douglas firs has obscured some of the close-enough-to-touch views of the mountains that Newnham would have seen in 1971.
Meanwhile, nationally prominent destination golf courses have been built in Central Oregon and on the Pacific at Bandon Dunes, and throughout the industry recreational golfers have found other pursuits, so annual play at Tokatee ranges from 20,000 to 25,000 rounds, at most, at green fees of $49 for 18 holes.
And yet the course that Nat Giustina imbued with his heart and soul remains simply special.
"To so many people, this is a spiritual place," said head professional Dan King, who has been at Tokatee, with his family, since 1995. "I can't tell you how many people have spread at least a portion of their father's or mother's or grandfather's ashes on this golf course. It's a place where every year, they come.
"I have groups who have been coming long before I got here, that are now into the third generation, and the first generation has all but passed away. And they continue to come, because they understand it was a spiritual place for their parents, so then it became a spiritual place for them.
"There's no out-of-bounds. There's no homes. There's nature. We saw an elk this morning. There's a good chance you could see a bobcat or a deer or an eagle or an osprey, that you've never seen before. All that plays into it.
"And so it's more than the golf."
A passion for golf
In the 1950s, Nat Giustina, a partner in Giustina Bros. Lumber Co., would bring his family up the McKenzie River, to cabins near McKenzie Bridge. On the way, they'd pull off at Mill Creek Road to enjoy the view of the Three Sisters from a field, west of what is now the No. 3 fairway, that had been a traditional stopping place for travelers for decades.
When he took up golf, and became passionate about the game, Giustina envisioned a golf course there, and in 1962, in his mid-40s, he purchased the 320-acre Belknap Ranch, much of which had been logged and now was a stump ranch, running cattle.
He retained Robinson to design the course, but Giustina had firm views of what the course should be; though he ultimately became a single-digit handicapper, at the time Tokatee was designed, Giustina played to somewhere between a 12 and a 15, and he wanted a course that was beautiful and challenging for the best golfers but also playable for the average golfer, and that could be played at an efficient pace, given that golfers were already investing about an hour to drive the 47 miles from Eugene.
That course endures. Because average golfers tend to fade or slice shots right, most holes have some room that way, and rough that isn't deep.
Greens are typically fast, with challenging contours, but every green is reachable by a run-up shot, on fairways kept firm, without forced carries over bunkers. In fact, Robinson designed more bunkers than Giustina installed, and not a single bunker has been added since the course opened.
"You kind of step back in time," said Mark Giustina, 35, the third generation of the Giustina family to manage the course, after his grandfather, Nat, and his father, Larry, now 66, who helped build the second nine as a young man.
"It's a traditional golf course. It's not overly difficult. There aren't massive, deep bunkers. It's not overly penal. You can miss a fairway to the left or the right and we don't have eight-inch rough that's going to destroy you.
"The thought was to have a great golf course, but have a place that everybody could have an enjoyable time playing golf. I think there have been times (in the industry) when that's been lost; it's been all about the test, or how difficult you can make it.
"We've stayed pretty true to the product. We haven't messed or tinkered with it. We were lucky to have a great architect in Ted Robinson, with Nat's heavy input, and it hasn't been broken, so we haven't tried to fix it."
But Nat Giustina did try to sell the 360-acre golf course site in the mid-1970s, reaching an agreement with Del Monte Realty of California, which wanted to build houses around the course. The sale was contingent on the land being zoned for development, and the issue became a focal point in a struggle between developers and environmentalists.
In 1977, Giustina abandoned the plan.
"Bitter? No, I'm not bitter," Giustina told Newnham in 1981. "They might have even done me a favor. I still have it and I still enjoy it. If I had sold it, I would have been on the outside. There is no question it is a joy to see people enjoying the course. Sure, I had an architect design the course, but there's a hell of a lot of me in it."
Nat Giustina passed away in 2005, at age 87. "When he put his mind to something, he wanted to see it through," Mark Giustina said of the failed Del Monte sale. "But as he looked back, it was a blessing. … If that had happened, I think Tokatee would have lost some of its charm."
Mark Giustina, general manager of both Tokatee Land Co., which owns the course, and of Giustina Land and Timber Co., said that the family has considered building bungalows on land west of the third fairway, but zoning laws would need to be changed, and the concept doesn't appear to be a high priority.
"Moving forward we have no plans to ever develop the golf course, we have no plans to sell the golf course and we want to keep it in the family for generations to come," he said.
Enduring stability
Change comes subtly at Tokatee. The original pro shop was a trailer, replaced by a modest pro shop in 1969, and the current pro shop and coffee shop in 1992. This year, there are new wood-carved signs and tee markers, created in the golf course's new maintenance shed, which replaced the original shed that burned down in late 2014.
Most years, the golf course shows a profit, Mark Giustina said, but the fire, which destroyed equipment such as mowers, vehicles, hoses and welding tools, was a major setback.
Giustina and King credit superintendent Ty Patton for keeping the course in excellent shape amid the turmoil.
Patton, who had started a month before the fire, is just the fourth superintendent in Tokatee history; the first, Ray Telfer, served until 2005. The course has had just three head professionals, with Mickey Sullivan serving from 1973 until he retired in 1995, to be replaced by King, whose wife, Wendy, manages the coffee shop, also works the pro shop, and orders merchandise. Over the years, their children have worked there, too.
That family enterprise fits within the Giustina family's approach.
"We've invested money back into the golf course," Mark Giustina said. "It's a highly competitive business, and it's a tough industry, but there still are golf enthusiasts, and we're going to provide the best product possible at the best price.
"We're not taking dividends out and paying family members, we're reinvesting it back in the course and trying to make the course a special experience for everyone."
As it has been for 50 years.
"Tokatee is going to survive because of its loyal customer base," King said. "The people who find this place special, and there are a lot of them, are going to keep coming. And new people are going to find it, and that happens too.
"It's not all about just playing 18 holes. There's a lot more to it."
(Originally published in Eugene Register-Guard on June 21, 2016.)
---
Tags …
Arnold Palmer
,
Bandon Dunes Golf Resort
,
Blaine Newnham
,
Cruden Bay
,
Curtis Strange
,
Del Monte Realty
,
Eugene Register-Guard
,
Fred Couples
,
Fuzzy Zoeller
,
Gary Player
,
Giustina Bros. Lumber Co.
,
Greg Norman
,
Larry Giustina
,
Mark Giustina
,
McKenzie River
,
Mickey Sullivan
,
Nat Giustina
,
Peter Jacobsen
,
Ray Telfer
,
Royal Dornoch
,
Royal Porthcawl
,
Ted Robinson
,
Tokatee
,
Tokatee Golf Club
,
Tom Watson
,
Ty Patton
,
Wendy King