The Sheep Ranch: A spectacular addition to Bandon Dunes
Phil Friedmann's 'sanctuary,' the Bally Bandon Sheep Ranch, transformed by Bill Coore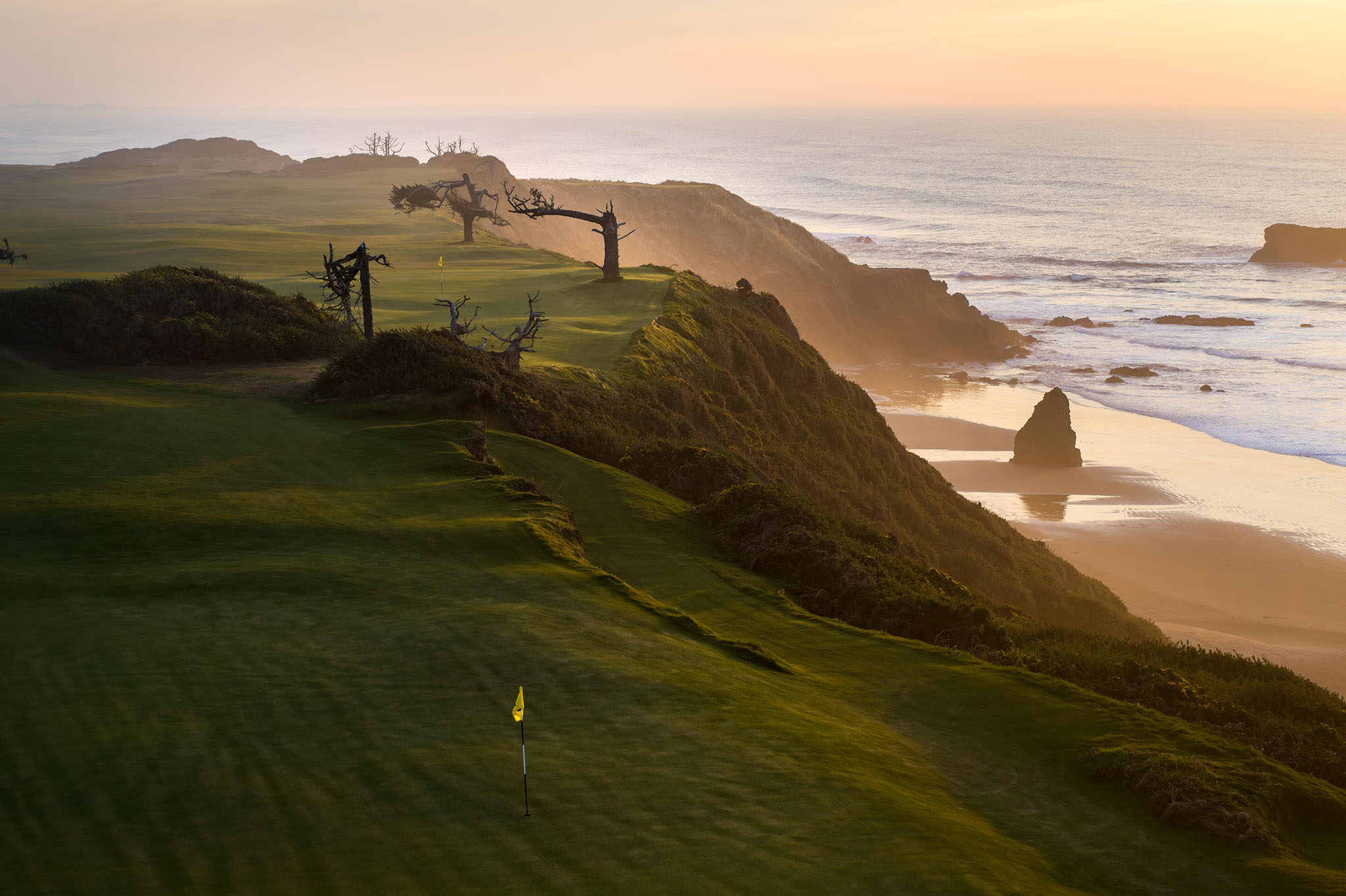 For roughly 15 years, Phil Friedmann was content to have the Bally Bandon Sheep Ranch exist as a personal sanctuary for himself and a few friends to golf in solitude over 13 rough holes on a mile of spectacular Pacific Ocean coastline north of Bandon Dunes Golf Resort.
On June 1, Friedmann unlocks that sanctuary for a world of golfers, as the Sheep Ranch, designed by Bill Coore and Ben Crenshaw, opens as the fifth and final full-length course at Bandon Dunes.
That the Sheep Ranch, with nine greens hanging on the cliffs above a jagged coastline, is already a speculative choice to become the highest rated of the magnificent public courses at Bandon Dunes is a tribute to the site, where Fivemile Point juts into the Pacific, and to Coore's routing that enhances the land's prodigious potential.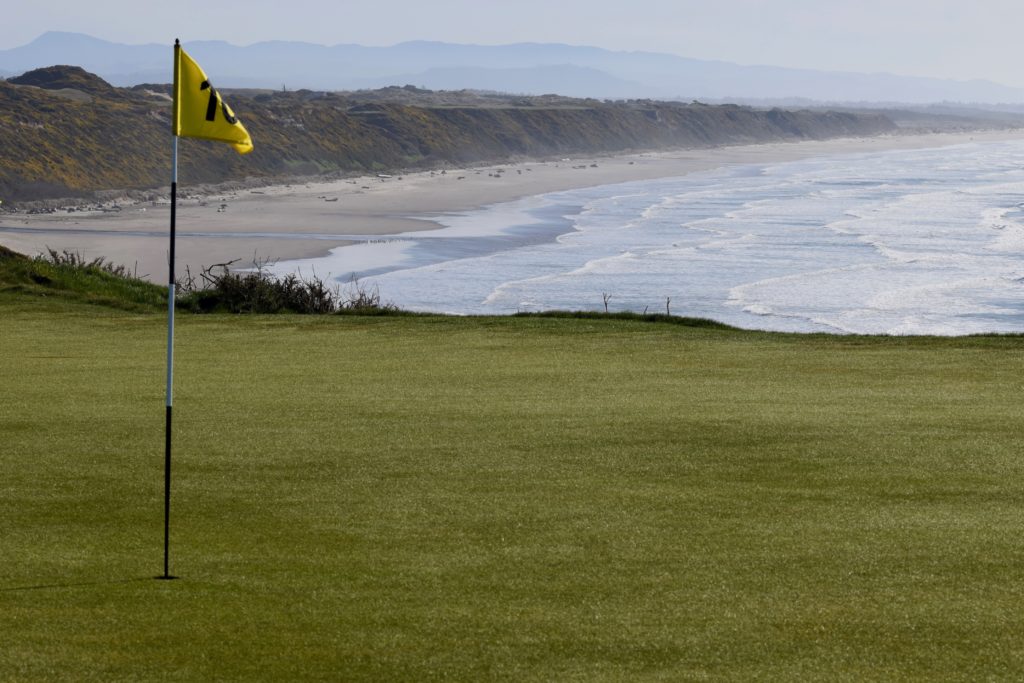 But while the new course is a logical addition to the resort — following the original Bandon Dunes, Pacific Dunes, Bandon Trails, Old Macdonald and the par-three Preserve — its backstory makes it unique.
Those courses were the vision of founder Mike Keiser; the Sheep Ranch, just north of Old Mac, is a collaboration between two old friends and business partners, one who played golf in college and long dreamed of the designing courses, the other who played rugby and came to golf later in life.
Mike Keiser and Phil Friedmann met as freshmen at Amherst College in Massachusetts in 1963. They became friends and roommates, and in 1971, four years after graduation, they found inspiration for a new business and became partners.
Recognizing the new national awareness of ecology, they created a Chicago-based company that sold greeting cards printed on recycled paper. Their original office consisted of two desks in a bedroom apartment. Twenty-five years later, Recycled Paper Greetings, featuring innovative card designs by freelancers, had annual sales of $140 million; the partners sold the business in December 2005.
"A lot of marriages don't last very long, and a lot of business partnerships are more fragile than marriages," Friedmann said. "But we set up a system that if we didn't agree, we didn't do it. When it got a little prickly I always landed back on the view that the friendship was more important than the business decision, or even the business."
By the mid 1980s, Keiser was looking for land to develop a golf course. Meanwhile, Friedmann had himself finally taken up golf; he claims to have had only one lesson, but he's had a few more than that, including a session with Peter Kostis that produced, later that day, a hole-in-one.
"I'm pretty much your average golfer," Friedmann said. "I certainly had days I would have loved to have broken 100 and didn't. I had days when I would have loved to have broken 90 and didn't. The best I ever did was an 81, with Mike. I don't know how I did that."
Friedmann, who turned 75 in January, said he still loves to play, though old rugby and football injuries have taken a toll on his knees and ankles. "It's funny," he said, "whatever hurts before I play and after I play almost never hurts while I play."
In 1991, Keiser found the property that would become, eight years later, Bandon Dunes. "He did not ask me to go in with him," Friedmann said. "He did ask me to loan him some money, which I was happy to do. …
"Looking back it's pretty easy to say 'yeah, of course, I wish he would have asked me.' And looking back absolutely I would have done it. But at that time I don't know whether I would have wanted to make that commitment."
In 2000, however, Keiser asked Friedmann to partner with him on the purchase of 400 acres on the northern boundary of the resort for $4 million. At the time, Keiser was building Pacific Dunes, designed by Tom Doak, which would open in July 2001, and it was Doak, as he was putting the finishing touches on Pacific Dunes, who laid out 13 greens on what the partners would call the Bally Bandon Sheep Ranch.
With Keiser focused on the growth of Bandon Dunes, and eventually the building of courses elsewhere, the Sheep Ranch became Friedmann's baby.
He made frequent trips from Chicago while Doak and Jim Urbina were shaping greens and fairways there in 2001, and then, starting the following year, took trips west to play the still-evolving course, hidden behind a sign-less locked gate off Whiskey Run Lane, a course where only the greens were watered, via a fire truck, a course that made Friedmann think of what Scotland must have been like centuries ago.
Friedmann said he always knew the Sheep Ranch would be developed as part of the resort, but he loved the place as it was and was in no hurry, even when Keiser started hinting, perhaps six years ago, that they weren't getting younger.
"Early on, when he was saying we should think about it, I did not have much of an interest in getting started," Friedmann said. "But with that percolating we did begin to talk about it maybe two years ago, right before we said 'let's look at a routing or two.'"
By then, Friedmann wasn't visiting the Sheep Ranch as much, and gradually more golfers had found a way to play the course through back channels — you and some buddies could have the whole place for a day for $100 each— and they found the experience priceless and, on certain days, mystical.
Friedmann and Keiser got routings from Doak, from Gil Hanse and from Coore and Crenshaw. Coore's routing, putting the 18 holes on the western-most 140 acres of the property, placing nine greens on the edge of the continent, resonated with Friedmann. So did Coore's compassion and respect for what the place had meant to Friedmann over the years.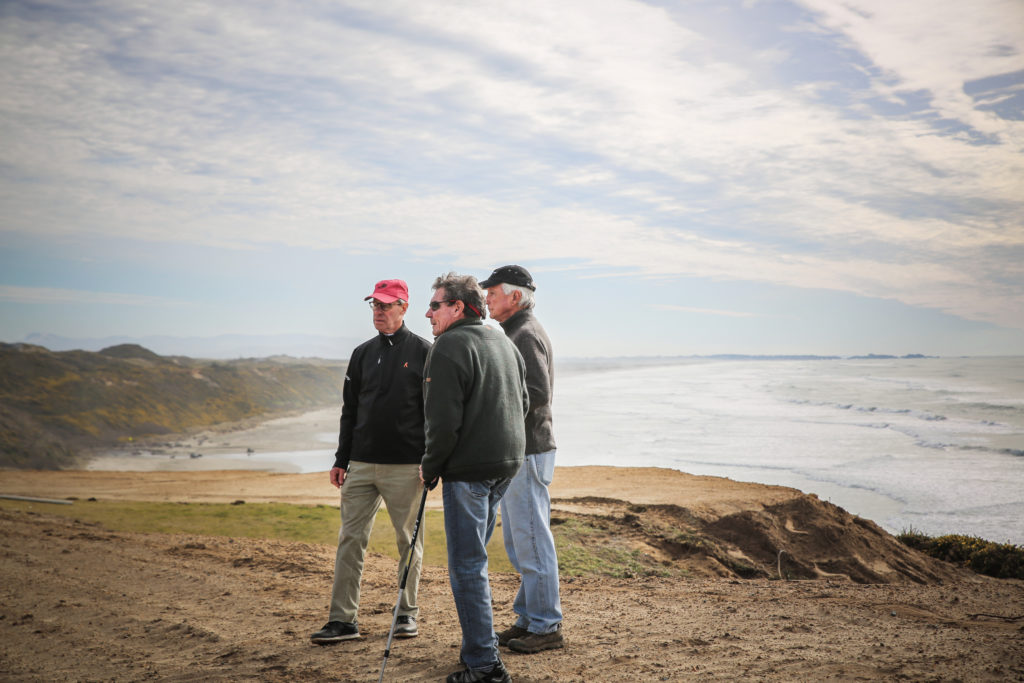 If waiting so long to develop the Sheep Ranch resulted in the chance to work with Coore, Friedmann said, then the timing was perfect, and the project has been inspirational. He talked about perhaps building another course one day; 20 years after Keiser opened Bandon Dunes on his own, Friedmann's officially in the golf business, as the Sheep Ranch will remain a partnership.
"I'm beginning to realize that what I had for 15 years will never come back," Friedmann said. "The sanctuary aspect of it is no longer mine. It's going to be a sanctuary for an awful lot of people who love the game of golf."
Some course details:
The Sheep Ranch will play to a par 71 at roughly 6,785 yards, with multiple teeing options. The No. 1, No. 3, No. 5, No. 6, No. 7, No. 9, No. 15, No. 16 and No. 17 greens will overlook the ocean.There will be a couple daunting tee shots, depending on the length the golfer plays, that will require a carry over depths below.
The No. 1 hole, a par 5 that will play 550 yards from the tips, from near the new clubhouse toward the horizon, might be considered among the best opening holes anywhere; the other courses at Bandon Dunes build up to the ocean view, but this gives it to the golfer from the very start.
To maximize the coast-side greens, several tee boxes have been grouped in proximity, radiating outward like the narrow end of a slice of pizza. With heavy winds as the course's defense, Coore has designed the course with grass bunkers, not sand, which would be harder to maintain due to the strength of the wind; remember, this site was once a wind-farm to create energy, a project abandoned when the wind proved too much for the windmills.
The Sheep Ranch will initially have a "temporary" clubhouse, as well as its own practice center and putting green; a gravel road through the resort has been paved, and shuttle time from the Bandon Dunes Lodge to the Sheep Ranch will be roughly 10 minutes.
Some photos from a Feb. 25 visit: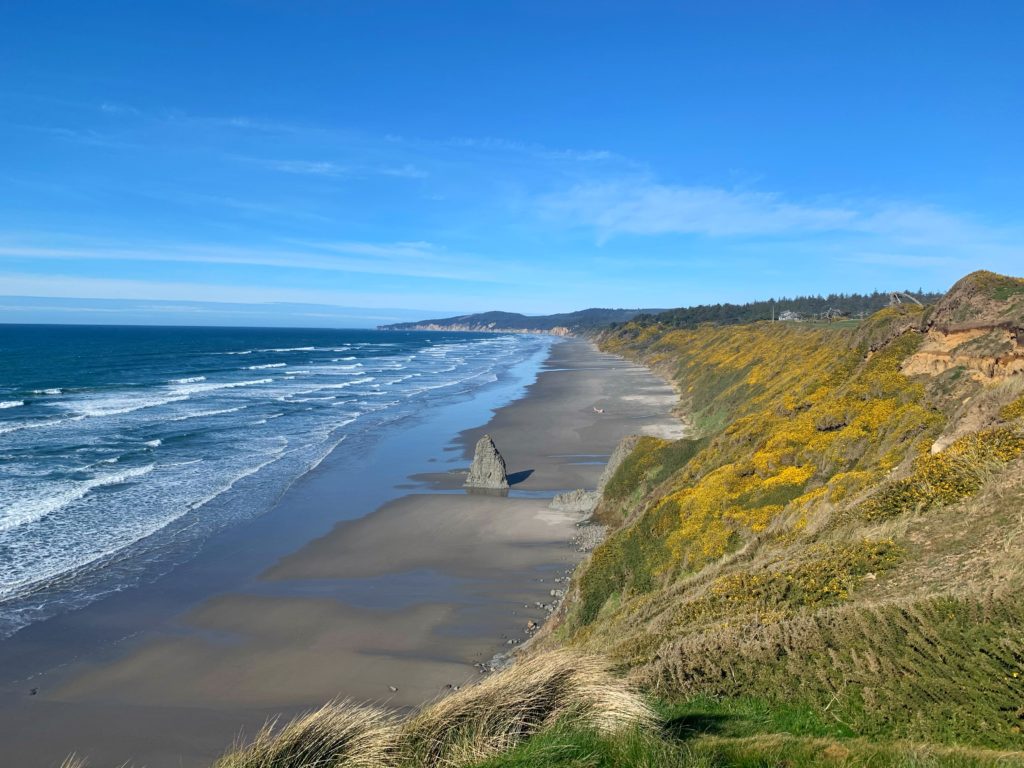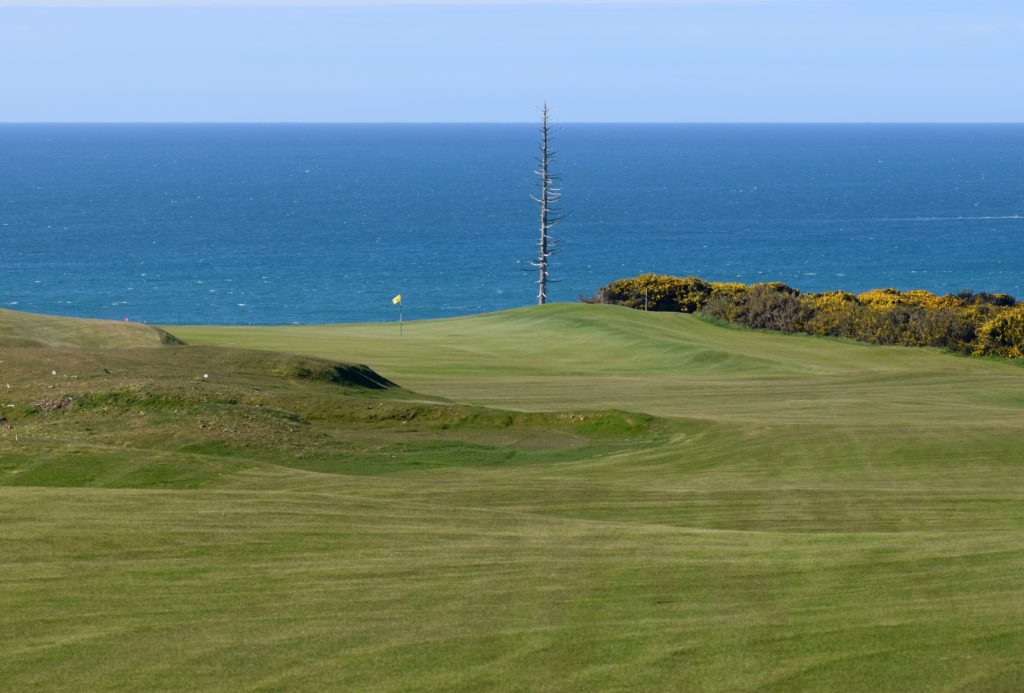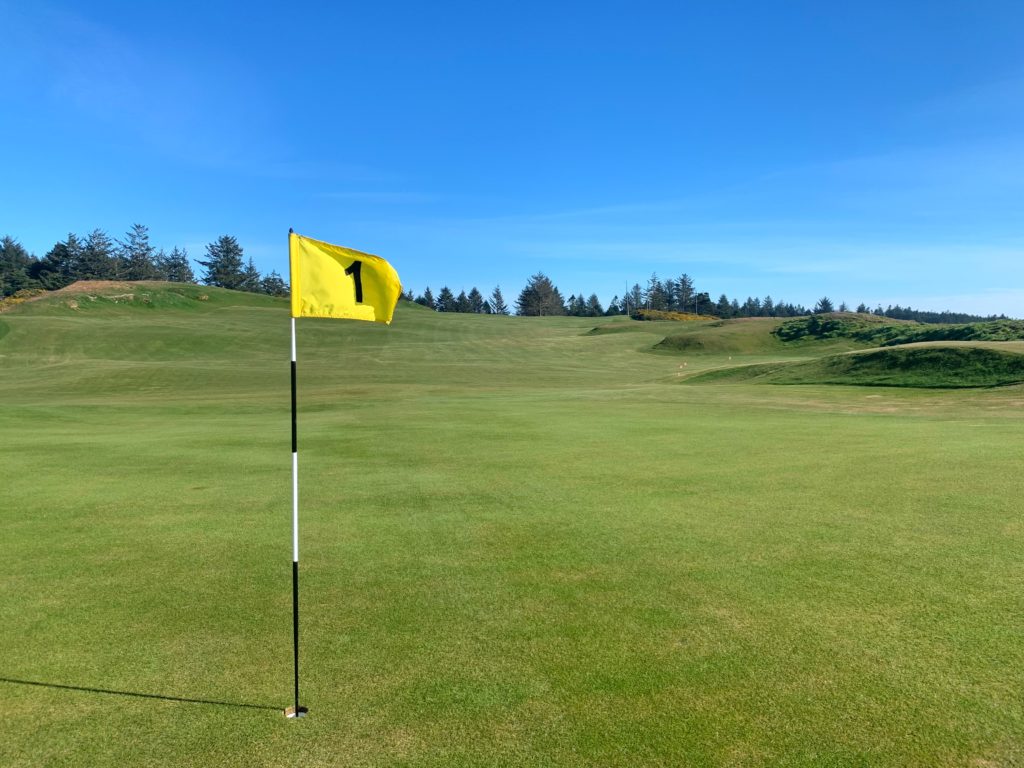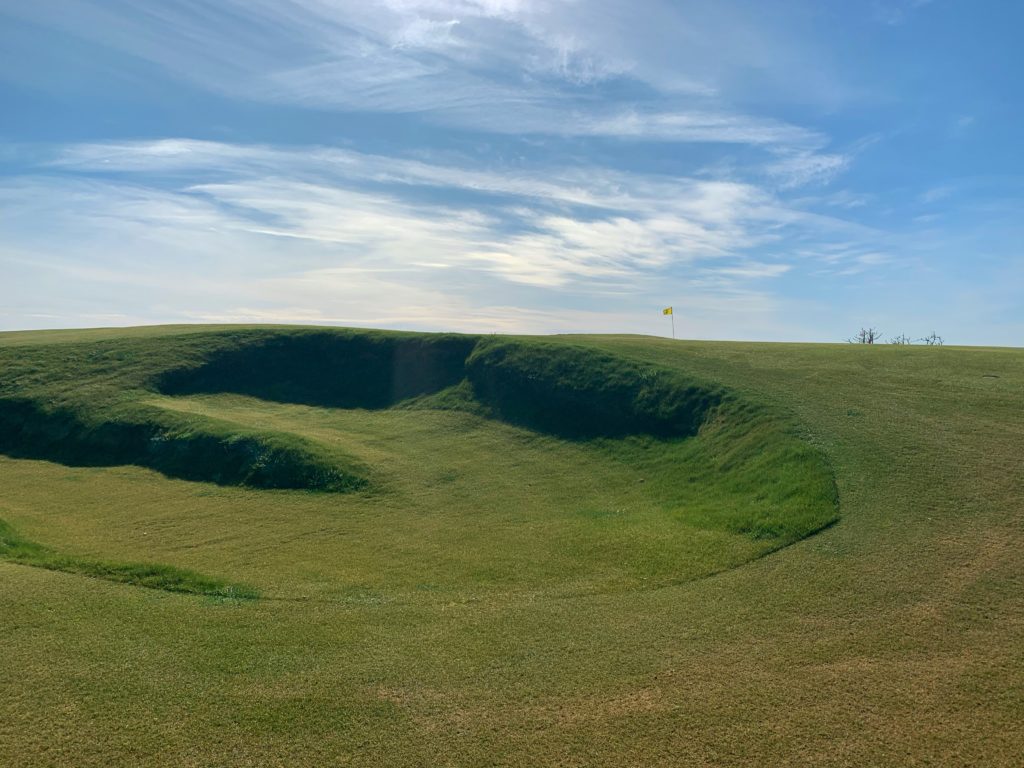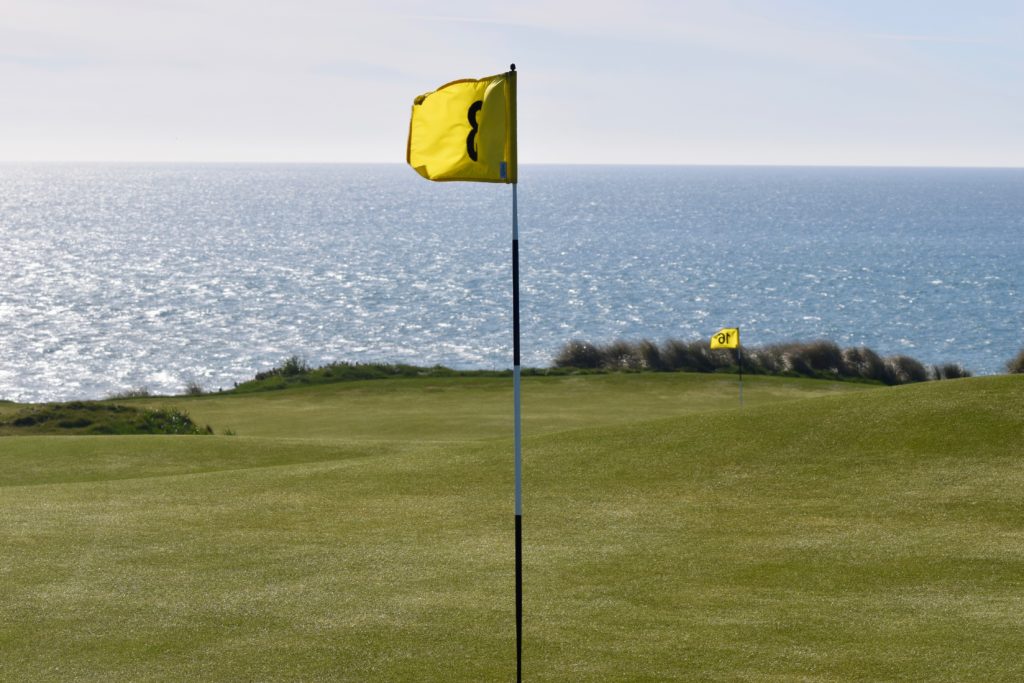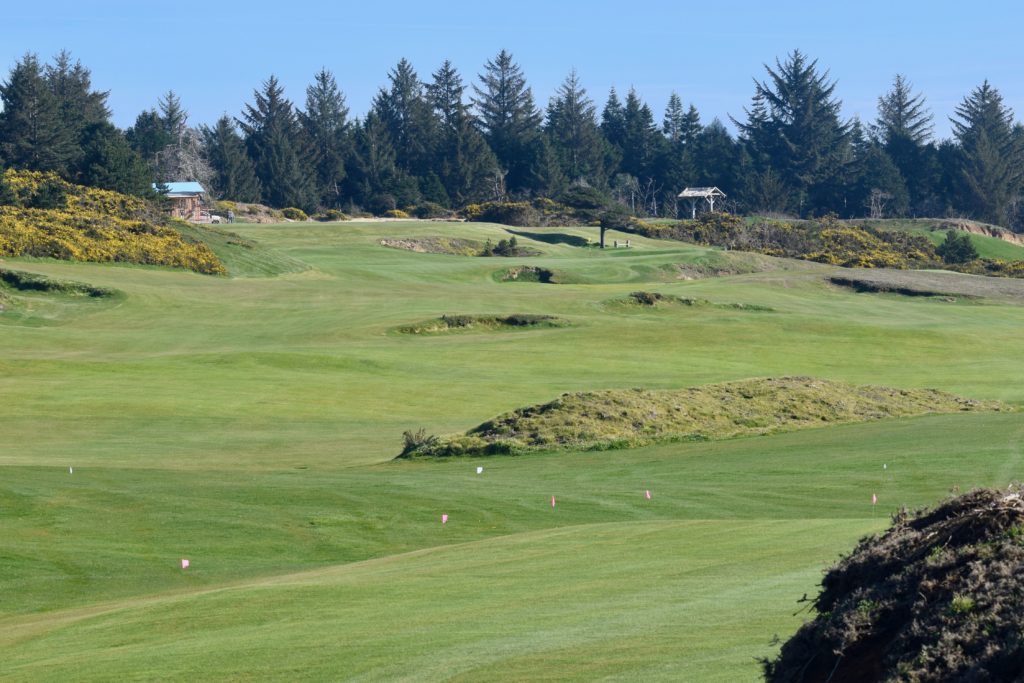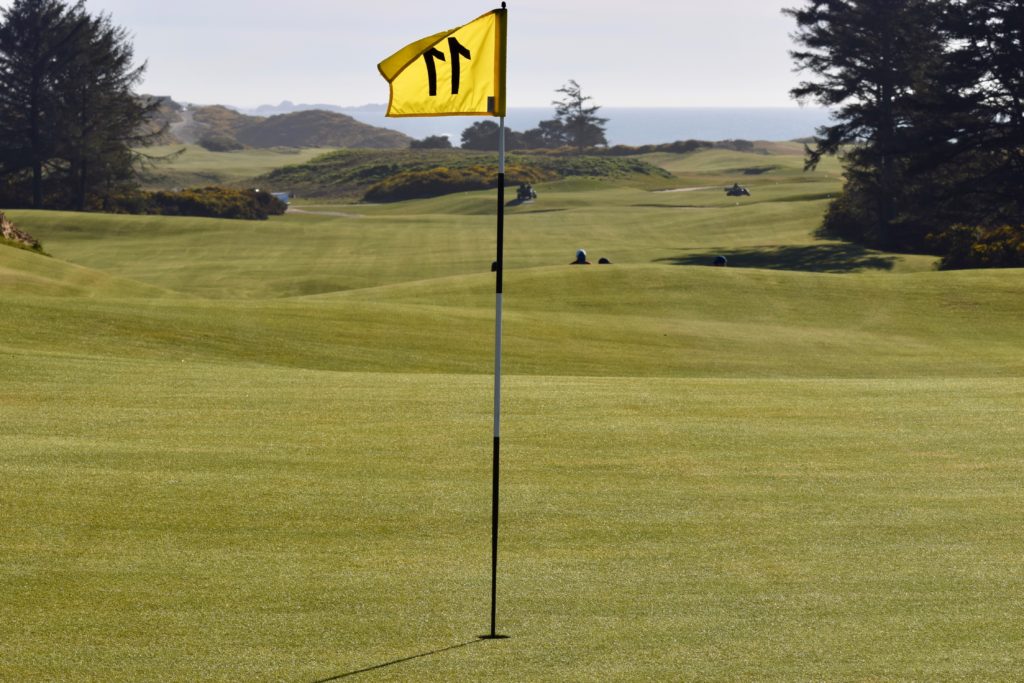 A version of this story was originally published in Pacific Northwest Golfer Magazine, February 2020. — LS
For a 2013 story on the Sheep Ranch in its previous incarnation, see The Sheep Ranch, a Golfer's Playground
---
Tags …