Previewing Ireland: Ballybunion, and much more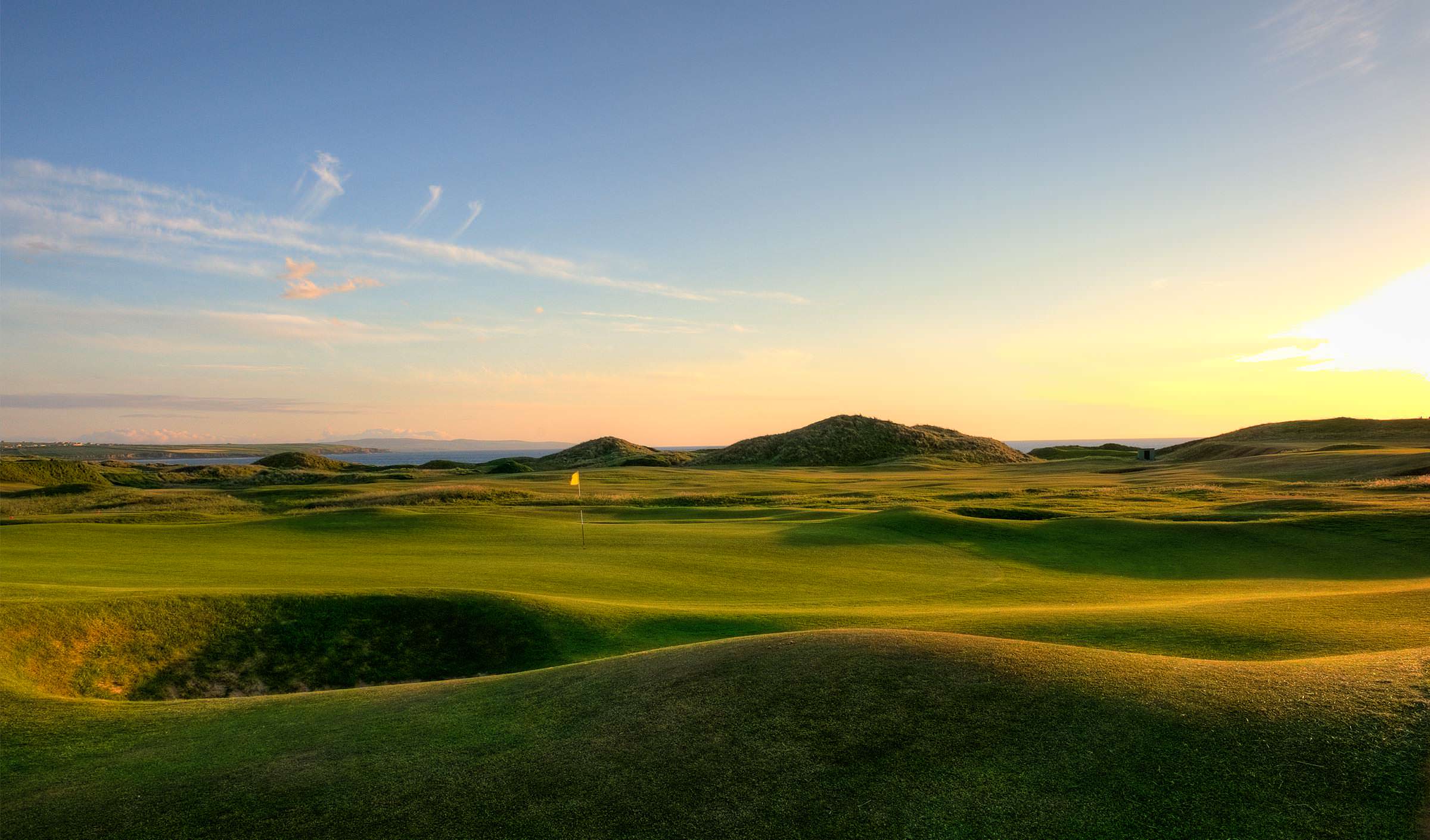 A nation famed for links golf courses
In a wonderful book "A Course Called Ireland," author Tom Coyne walks and golfs the entire perimeter of the nation. In one of those ironies of life, a friend gave it to me just over a year ago. Then, I was recovering from open-heart surgery, an unexpected quadruple by-pass. I didn't read it right away; I had never even dared to put golfing in Ireland on a bucket list, a term that took on new meaning last year.
And now I'm going, and taking Coyne's book with me. The book is must-reading for anyone about to embark on a golfing trip in Ireland, and I liked it a lot, though fortunately on our September trip, Blaine Newnham, Tom Cade, Rob Perry and myself will be driving from course to course, rather than hiking.
Our trip is courtesy of Tourism Ireland, represented by Bernard McMullan.
We will be playing links courses, highlighted in the book "True Links: An Illustrated Guide to the Glories of the World's 246 Links Courses," written by George Peper and Malcolm Campbell, with principal photography by Iain Lowe and a forward by Tom Watson, the authors report that there are more than 30,000 golf courses world-wide, but only 246, less than one percent, qualify as true links courses:
In rough order, here are the courses we are going to play; a couple of dates are tentative, and I'll be providing updates on this site throughout the trip, and afterward.
Lahinch Golf Club: As noted in "True Links," "the short fifth hole, know as the Dell, is all that remains of the 1892 Tom Morris layout among the mass of sand hills on Lahinch on Ireland's west coast. In 1929, Alister MacKenzie left his own mark on the course, before designing Augusta National and Cypress Point, among other famous courses.
Wrote Coyne: "Lahinch fell on the first page of most global golf course rankings, a links built in 1892 by Limerick golfers looking for a summer track and Scottish soldiers stationed in Lahinch. Golfers had made pilgrimages to Lahinch's dunes ever since."
Last year, Golf Digest ranked it No. 64 in the world: "Considered by some the St. Andrews of Ireland, the splendid links at Lahinch reflects evolution in golf architecture. After Alister MacKenzie remodeled it in the 1920s, only a few of Old Tom Morris's original  holes, like the Klondyke par-5 , and Dell par-3 , both with hidden greens, remained. In the 1980s, Donald Steel altered some of MacKenzie's holes and in the 2000s Martin Hawtree rebuilt everything and added four new holes. One classic MacKenzie par 3, the old 13th, is now a bye hole."
Ranked No. 40 by Golf.com's panel of experts.
Trump International Golf Links (Doonbeg): Designed by Greg Norman, this 2002 golf course is high-end and high-quality, "a place for the guys who didn't need the receipt, who traveled a great distance for the purpose of being blown away. And Doonbeg did a great job of that," as Coyne wrote. He reported that Norman visited the site 22 times during construction, a lot for a celebrity designer; Coyne didn't care for the bunker in the middle of the 12th green, but wrote that "the thing Norman got absolutely right in Doonbeg … was that he let the dunes speak, and they spoke with vigor."
In "True Links," Doonbeg is described thusly: "Like the original links courses, Doonbeg was built with shovels rather than bulldozers. Holes were not so much created as allowed to appear, with only a few fairways and greens shaped and contoured. Blowout bunkers were left as they were found and those added were dug by hand, their faces revetted with sod and their collars fringed with shaggy grass. The result is a raw and spectacularly natural golf course, minimalism at its ultimate."
Ballybunion Golf Club (Old Course):  In "True Links," the authors quote noted golf writer Herbert Warren Wind, who described the links as "nothing less than the finest seaside course I have ever seen."
As the book notes: "The course threads its way between huge sand dunes scattered at random along a shoreline of outstanding beauty and splendor. This patch of County Kerry is classic seaside linksland, with crisp, firm turf spread across a panorama that is virtually treeless and totally exposed to the vagaries of the winds that sweep in unimpaired from the Atlantic Ocean. Established in 1893, the club was shut down for a few years, revived in 1906 with nine new holes, and expanded to 18 holes in 1927. The order of holes was changed in 1982, with the addition of a new course, the Cashen, designed by Robert Trent Jones.
Coyne's hike around Ireland was a quest to return to Ballybunion. It was the end of his journey, and Coyne wrote: "I'm not going to tell you much about the Ballybunion links. If you've played it, you know. If you haven't, I'm sorry. Other places I had visited were Irish links golf courses; to me, Ballybunion was Irish links golf. Bold but still subtle, grand without feeling pretentious, it was an ancient course where every inch still felt relevant."
Last year, Golf Digest ranked the top 100 courses in the world, placing Ballybunion 27th: "Ballybunion has always been great, but it wasn't until they relocated the clubhouse in 1971 to the southern end that it became thrilling. The move turned the old finish of anticlimactic back-to-back par 5s, into the fourth and fifth holes, and shifted the new closing holes to ones in spectacular dunes just north of the intersection of the Shannon River and the Atlantic Ocean."
A panel of 100 experts consulted by Golf.com ranked Ballybunion No. 17 in the world.
The book "The 500 World's Greatest Golf Holes" lists No 2, No. 7 and No. 11, all par 4s.
Tralee Golf Club: Dating to 1896, the course was made into an 18-holer in 1984 by Arnold Palmer. As Coyne wrote in "A Course Called Ireland," "Tralee was a tale of two nines — Arnold Palmer said he was responsible for the front, but credited God for the back. … Placed on opposite corners of the beachhead, Tralee's outward nine was a stretch of very strong golf holes, but they were just a warm-up for the madness that would ensue on the way in."  As recounted in "True Links," "in terms of pure scenery, Tralee is comparable to its neighbor Old Head, to Pebble Beach in California, or to Nefyn & District in Wales. Indeed, the film director David Lean was so smitten with the site that he used the first and second holes for several scenes of "Ryan's Daughter.""
No. 17, a 353-yard par 4, is cited in "The 500 World's Greatest Golf Holes": "The forced-carry tee shot is played to a fairway that can only be called rugged, and even that is an understatement. Playing the hole into a strong headwind requires a Herculean effort, which will be long forgotten upon reaching the small, highly perched green."
Waterville Golf Links: According to "True Links," "it was the men who worked on the transatlantic cable relaying messages between North America and Europe who introduced golf to the wild linksland of Waterville. Back then, in the 1880s, it was a crude form of the game played in the winter months, when the grass went dormant." By the 1950s the course had fallen into disrepair, and the course was dormant for a decade before John Mulcahy sought to build a world-class links course on the site. Eddie Hackett and Claude Harmon designed the course, and Tom Fazio updated the layout, a popular site for golfers preparing for the Open Championship.
Wrote Coyne: "In a country where the holes could look the same — lovely but similar, a regular rhythm of dune, gorse, dune, pub — the holes in Waterville made memories. The second was a bold bully of a par four running down and away from you with an approach shot into a backdrop of estuary waters and Kerry mountains. The par-threes were each unforgettable, the most stunning being the Mass Hole, where we hit five-irons over a yawning crater, a deep hollow in the dunes where Catholic mass was held in secret during penal times. Original plans asked for the 12th green to be placed within the hollow, but laborers refused to break the ground where mass had been celebrated. Mr. Hackett was happy to push the green back and upward into the hillside, adding a few yards and a half stroke of difficulty (so if you doubled the Mass Hole, you could vociferously blame it on Jesus Christ without sinning). And the view from the tee box on Mulcahy's Peak must have been the most popular photo stop in Ireland. The tee sat at the peak of Waterville's tallest dune, every hole on the course in plain view, ocean rolling up on to the beach behind the green."
Last year, Golf Digest ranked Waterville No. 93 in the world: "Waterville has some superb dunes holes, next to the Ballinskellligs Bay, and several laid out in former potato fields. Original owner John Mulcahy and 1947 Masters champion Claude Harmon (Butch's dad) collaborated with Irish golf architect Eddie Hackett on the early 1970s design. A decade ago, Tom Fazio added new par-3 sixth & par-4 seventh holes and altered 13 others, adding new tees, greens and much-needed humps and bumps to the flattish front nine."
Ranked No. 76 by Golf.com.
Two holes, No. 17, a 196-yard par 3, and No. 11, a 496-yard par 5, are cited in "The 500 World's Greatest Golf Holes."  The par 3, Mulcahy's Peak, is the final resting place for Mulcahy. The par 5 seems a natural hole, such as workers might have played back in the 1800s.
Old Head Golf Links: In Kinsale, near the wreck of the Lusitania, is Old Head, noted for its spectacular views and steep price.
Wrote Coyne: "The miracle is that Old head began when a few brothers from Kerry bought what was essentially an island at the end of Kinsale, spent years covering it with soil and fairway, and built a golf course on a piece of property you'd be afraid to traverse as a goat, let alone a golfer. … Looking at an aerial of Old Head, a giant rock draped with fairways and set against an endless blue Atlantic, it almost looked impossible — not to play, just to imagine. … I left the place once again convinced that Old Head of Kinsale was simply the most spectacular golf course in the world. Spectacular. Not the most classic, not the most historic, not the most challenging, not the best in Ireland, even … and though dubbed a links course, there was nothing truly linksland about the place. But as we crested the hill on the road to Old Head, and we all glimpsed our green playground floating in that big blue pond, $425 felt like a fair deal."
In "The 500 World's Greatest Golf Holes," there is this description of No. 17, a 628-yard par 5: "The fairway drops off at about 175 yards from the green, revealing a harrowing greensite guarded by bunkers and clinging to a 200-foot-high cliffside." It is considered among the "most penal" holes in the world.
Dooks Golf Links: (Maybe.) Established in 1889, Dooks is one of the 10 oldest golf clubs in Ireland and celebrated its 125th anniversary in 2014. As noted in the club history, Dooks is "a true sea-side links situated in a panoramic setting in a corner of Dingle Bay, Co. Kerry.  The Atlantic Ocean can be seen from practically every hole and Ireland's highest mountain range, the McGillycuddy Reeks, overlooks every shot." The original nine-hole course was laid out by members of the Royal Horse Artillery. At that time military units came from all over Ireland for artillery practice. These included Scottish officers who had earlier established golf courses in Kildare and Dublin. In 1900, an additional nine holes were added, but soon abandoned because of cost; the course would not be 18 holes gain until 1970, and in 2002 the club retained noted architect Martin Hawtree for a complete overhaul and revamping that was completed in 2006.
In "A Course Called Ireland," Coyne put Dooks on the short list of "courses I would walk back to first," a list that includes Ballybunion, Old Head, Lahinch, Waterville and Tralee, and at the top of his list of "best golf values."
"What the redesign had done was essentially lift up the Dooks golf course to take advantage of its locale, showcasing the scenery that I hardly noticed 12 years ago," Coyne wrote. "Unsightly hedges were uprooted and holes were extended to their natural conclusion by the water's edge. The greens and tees were elevated, and the mounding was reshaped to draw your eye into the surrounding mountainside. What was once a fun but forgettable links lost in pine trees and dense pockets of gorse was now a course built for your camera. … "
---
Tags …