Emerald Valley: A new look for an old nemesis, No. 4 green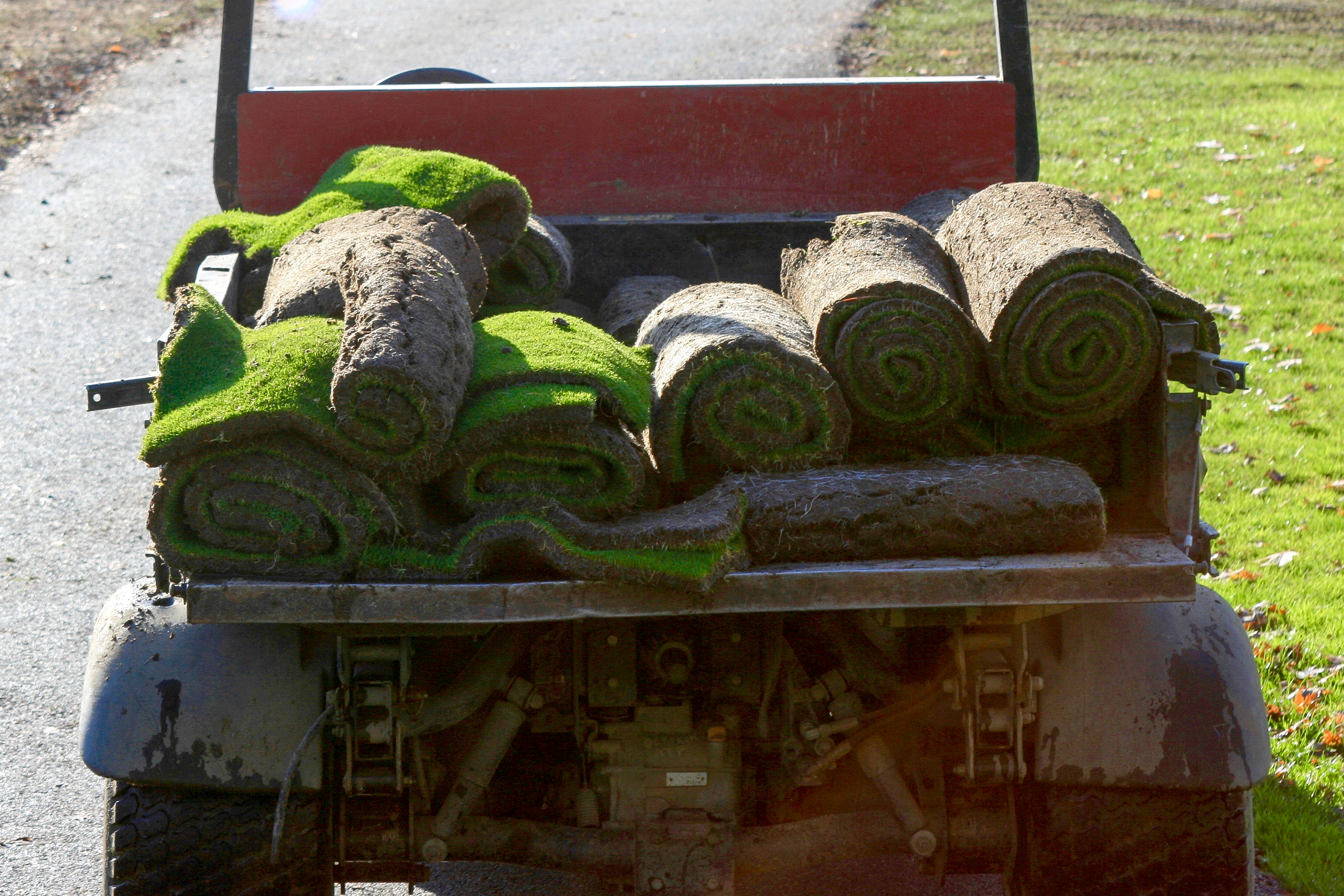 After much deliberation, an iconic (or notorious) green gets a makeover (but remains quite challenging)
CRESWELL — Several years ago, Jesse Castillo was serving as a rules official for a state high school girls golf championship at Emerald Valley Golf & Resort when he was summoned to the fourth green, where he found three distraught young golfers.
"I said, 'How can I help you?' " Castillo recalled. "And they said, 'We lost track of her putts. We think she had 14 or 16, we're not sure.'
So Castillo thought, and made a ruling.
"I said, 'Well, would you three agree on 15?' And they said, 'Oh, yeah, we'll agree to 15.' "
Unbelievable? Not for golfers who have played Emerald Valley over the past four decades. The fourth green sits at the end of a hole that plays 385 yards from the blue tees and features a narrow, dog-leg left tree-lined fairway with two bunkers menacing the right-side landing zone. At times, the par 4 has been rated the No. 1 handicap hole, toughest on the course.
And the true challenge started at the green, almost 8,000 square feet, featuring a descent of about seven feet from the back of the green to front, with another three feet to the bottom of a fronting swale.
Though the green has been described as three-tiered, the portion deemed level enough for the two most-frequent pin placements has been but a sliver. Typically, balls that came to rest on the green above the hole picked up enough speed, with even the most gentle touch of the putter, that they wound up in the trough below the green. Putts or chips from below the green that didn't quite reach the putting tier usually came back to the golfer's feet — as would a perfectly struck wedge that might have spun just a bit too much.
Marv Brenneman, who has golfed at Emerald Valley since the 1970s, compares the green to the face of a cow. Brenneman said his highest score there was an 11, after reaching the green, above the hole, in four shots.
"I just kept putting," he said, "and it wasn't working."
And so it is with great anticipation that Brenneman, among other Emerald Valley regulars, looks forward to the re-opening of the fourth green, closed since mid-October for a renovation that has reduced the slope and created a wider variety of possible pin positions.
The renovated No. 4 green will make its debut Friday through Sunday in the Emerald Valley Best-Ball Tournament, first in the Space Age Cup series of tournaments at Emerald Valley and Wine Valley Golf Club in Walla Walla, Wash. Emerald Valley superintendent Scott Larsen, who planned and executed the project, believes that the makeover has retained the integrity of the course's toughest green while making it a more fair test of golf.
"It's still going to be No. 4," he said. "There are still going to be a lot of three-putts — but hopefully not as many four- and five-putts."
'A life of its own'
Emerald Valley opened as a nine-hole course in the mid-1960s, one of 80 courses designed by the late Bob Boldock. In local memory, the original course was virtually treeless and the greens typically flat, until Peter Murphy Sr., who had founded Murphy Timber Co., purchased the course, by then 18 holes, in the mid-1970s.
Under Murphy's stewardship, and that of head professional Buck McKendrick, course drainage improved, numerous trees were planted and the greens were elevated, featuring the ascending slope that is classic Emerald Valley. The green at No. 4 traces its roots to that era — when, because of mower technology, green speeds were typically much slower than today.
After a succession of owners, former University of Oregon golfer Jim Pliska bought Emerald Valley in 2002, and over the years dramatically enhanced the course, with a design by Dan Hixson, adding bunkers and tee boxes, limbing trees and improving irrigation and the quality of the greens. (Hixson also designed Wine Valley, of which Pliska is co-owner.) As Emerald Valley became a more suitable site for tournaments, such as Oregon Golf Association events and U.S. Open sectional qualifiers, the green at No. 4 emerged as an integral part of the course's identity, for better or worse.
"I don't want to say it defined the golf course," said UO men's golf coach Casey Martin, who reached the 2012 U.S. Open by winning a sectional qualifier at Emerald Valley. "Because the golf course is very good, and that green maybe wasn't the best. But when you talked to people about Emerald Valley, it always seemed to come up.
"It was a pretty common refrain, 'Great golf course, but what about that fourth green?' And it kind of took on a life of its own, maybe not in the best possible way. It was controversial, obviously, because it was so severe and so penal."
As a senior at South Eugene High in 2012, UO golfer Sulman Raza, envisioning a career as a landscape architect designing golf courses, wrote his International High School final project on a cost-effective, eco-friendly renovation of the No. 4 green.
"I think the course itself provides a good test, but that one hole, a lot of people don't have a huge preference for it because of that green," said Raza, now a redshirt junior for the Ducks. "You can go into it playing pretty well and throw your whole round away because of a few putts."
Raza's theory was that a less-controversial, somewhat flatter green would enable Emerald Valley to attract prestigious tournaments, be embraced by regular patrons and improve pace-of-play. He worked extensively on the project with Larsen, measuring the grades of the green and creating a design similar to the one that Larsen implemented last fall.
Raza got an "A." However, the golfer whose opinion of No. 4 mattered most — owner Pliska — continued to give high marks to the existing green.
"He liked that people remembered it and talked about it," Larsen said. "And I think we all did. But I think it just got to the point where the greens are maybe a little bit faster, and it turned in to being more negative than positive."
Admitted Pliska, who can't remember anything worse than a double-bogey on that hole: "I kind of liked that hole, where a lot of people don't."
But last year, Pliska gave Larsen permission to fix No. 4.
A whirlwind project
The highly respected Larsen, who ran his own golf course construction company before coming to Emerald Valley, re-measured the green, finding grades in the 5 to 7 percent range, even as much as 8 percent, and roughed out a new green on paper.
"Typically, somewhere in the 3 percent range is considered fairly steep for putting, for a pin placement," he said.
On Oct. 18, with a rough temporary pin position in place, Larsen and workers began stripping sod from three quarters of the No. 4 green, leaving only the lower left portion intact; the sod was set aside to be reinstalled when the project was finished.
Then Larsen began lowering the back of the green and building up the right side, with the goal of creating level-enough ground for pin placements, including back-right and lower-right, that never before existed. The lower left side of the green was raised slightly, perhaps six inches, to keep putts from rolling off.
There was a sense of urgency — a lot of rain would prevent use of heavy equipment — but by Nov. 3, after working virtually every day for 16 days, digging new drainage trenches, bulldozing dirt and smoothing the surface, Larsen and his crew had reinstalled the last of the sod and added about 200 square feet to the green.
The result: A green that is a foot-and-a-half lower at the highest point and a foot-and-a-half higher at the bottom right, with slopes on the puttable areas ranging from 1 percent to 3 percent and offering intriguing new pin placements. The left-middle and lower-left areas remain largely unchanged, but the rear portion and the right side have been changed significantly.
"Personally, when people are back in the fairway, I want them to say, 'Well, what did they do to the green?' " Larsen said. "It's still going to be a difficult green. I just think it will be a little bit more fair."
Not all in favor
Martin is enthusiastic about the change.
"The shaping Scott did looks very good," Martin said. "It will still be severe, but it will be playable. Long-term, it will definitely be a big improvement."
But Castillo, an Emerald Valley regular and single-digit handicapper who serves as a course rater for the Oregon Golf Association, laments the demise of the old No. 4. He believes Emerald Valley should have preserved a unique green that was a defining moment in competitive rounds, an intrinsic part of the course's identity and a thought-provoking challenge for golfers. Of course, he admits to having made a fair number of pars and birdies on that hole, too.
"On that green, you either won tournaments or you lost tournaments," Castillo said. "You're leading a tournament, you come there the second day, if you don't play that hole right, you might get caught up."
Pliska would understand that sentiment, because for so many years he shared it, but clearly the complaints resonated, too.
"When you talk to people around the state, they remember No. 4," he said. "It's almost like a signature hole, a triple-tier green and very severe. I think overall we don't need to live by that on our golf course. There are so many great things about it, we hate to have someone remembering it for a bad experience."
(Originally published Eugene Register-Guard March 15, 2016)
---
Tags …