David McLay Kidd: Famed golf architect thriving in Oregon
A Bend resident for 10 years, the designer of the first course at Bandon Dunes Golf Resort has embraced the concept that 'harder isn't better'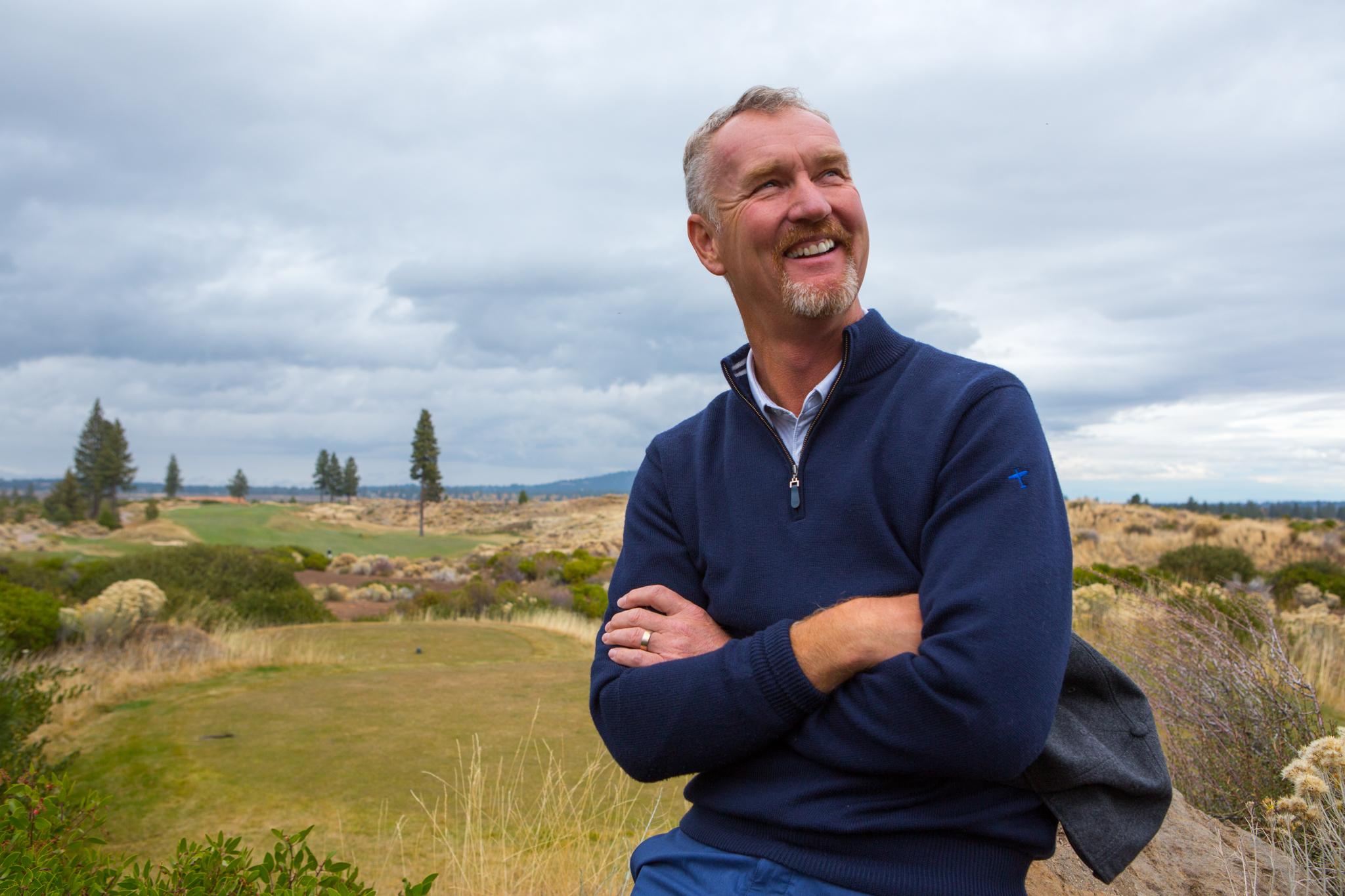 BEND — David McLay Kidd is one of the most famous golf course architects in the world, highly successful, a millionaire several times over who flies his own airplane and owns a villa in Nicaragua and a house near London, and so he could live anywhere, really.
Noteworthy, then, that the 48-year-old Scotsman has made his principal home in Bend for a decade, has based his DMK Golf Design business exclusively here since 2009 and has fully embraced the high-desert beauty and the lifestyle of Central Oregon.
He rides bikes on the roads and on trails. He's done a few triathlons. He coaches his 12-year-old daughter's soccer team, and has from kindergarten now into middle school, and has become a camera buff to capture photos of the team. Married last March to English professional golfer Tara Dayer-Smith, Kidd hopes to build a new house here next year, on two acres on a hilltop off the eighth fairway at Tetherow Golf Club, a course he designed.
Does all that make Kidd an Oregonian now? Well, he's officially a U.S. citizen, since last year, keenly interested in politics, voting in today's election, such as it is.
Fitting that Kidd calls Oregon his home because Oregon has figured so prominently in his life, and he has figured so prominently in the internationally famous Oregon golf phenomenon that is Bandon Dunes Golf Resort.
Because Kidd wasn't yet 30 when Chicago billionaire Mike Keiser chose him to design the first course at Bandon Dunes, which opened in 1999 and launched into the stratosphere both Kidd's career and golf on that remote stretch of the Pacific Ocean.
Bandon Dunes Golf Resort consists of four 18-hole courses, with plans to add another, and a par 3 course, with plans to add another.
And Kidd has gone on to design courses in Hawaii, Scotland, Ireland, England, Fiji, Nicaragua and South Africa, and to receive such accolades as Golf Magazine's architect of the year in 2008.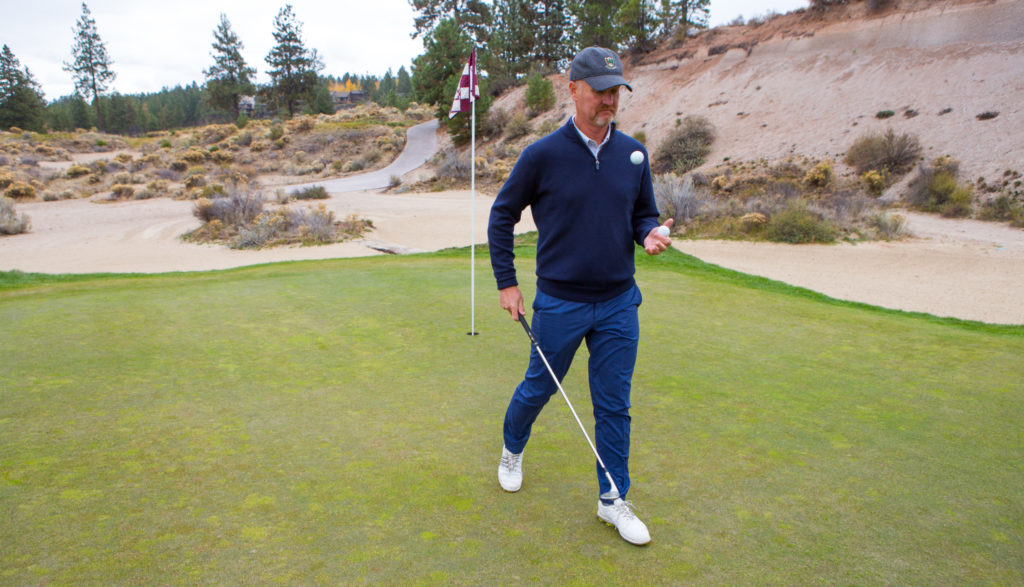 In 2016, his business is flying high. Gamble Sands Golf Club, a course Kidd designed overlooking the Columbia River in central Washington, opened in 2014 and won best new course awards from Golf Magazine and Golf Digest.
Lauded for its sense of fun and playability, Gamble Sands has been, for Kidd, not so much career-defining as career re-defining.
This year, Kidd opened a course in England, ultra-private Beaverbrook Golf Club, that he co-designed with Tom Watson. He's building a course in Southern California, Rolling Hills Country Club, that will open next year, and has been hired by Keiser to design the second course at the much-anticipated Sand Valley Golf Resort in central Wisconsin, their first collaboration since Bandon Dunes.
But Oregon is central to Kidd's life in other ways, too, for it is here that he experienced two "epiphanies."
The first was personal. He was 40, a single father with custody of his young daughter, Ailsa, when he made a lifestyle change; no more nights out drinking with his work crews, no more adding the empty calories that had seen his weight reach 230 pounds on his 6-foot-1 frame. He cut out alcohol completely for years, and now only indulges an occasional glass of "Oregon pinot noir with a great steak." He worked with a personal trainer, and still does daily when he is in Bend, and got his weight down to the 180s.
"The question I'm often asked is 'what's your greatest achievement?' and they want me to say Bandon Dunes," Kidd said. "And I say it was raising this little girl."
The other epiphany was professional and came a few years later, in roughly 2009, and ironically involves the course where he and Tara will build their new house, Tetherow.
Tetherow received high acclaim when it opened in 2008 and remains highly ranked and a commercial success, but enough golfers found it difficult and some locals dubbed it "Death Row." Despite accolades — best new course — and subsequent modifications by Kidd to enhance playability, such as expanding some greens and cutting back the penal vegetation around them, that became its reputation. A similar fate befell the Castle Course that Kidd designed in Scotland for the St. Andrews Links Trust.
Kidd is intensely proud of both courses and believes that both courses, as they evolve, will stand the test of time. But the criticisms caused some introspection.
"I thought to myself, 'Why is Bandon so successful?'" Kidd said. "What did I get so right at Bandon that I haven't got quite so right elsewhere?'"
To find the answer, Kidd went back to Bandon Dunes.
Growing up in golf
In the summer of 1994, Kidd was a 26-year-old golf course architect working in the design department of Gleneagles Golf Developments when he first saw the gorse-choked property that became Bandon Dunes.
He was college-educated in landscape design, but golf courses were in his blood and under his fingernails. Kidd's father, Jimmy Kidd, was among the most prominent golf course superintendents in the United Kingdom, for 25 years in charge of the courses at the famed Gleneagles Resort. David worked some summers for his father, and grew up listening to Jimmy Kidd and his peers at such courses as Turnberry and the Old Course at St. Andrews.
In retrospect, the fact that Keiser, with little course-building experience, hired this relatively unaccomplished Scotsman to build the first course at Bandon Dunes is simply unfathomable, and part of the magic of the story of the resort.
But Kidd took inspiration from the classic Old Tom Morris links course in western Scotland, The Machrihanish Golf Club, near where his family had spent vacations during his childhood, and from the King's Course at Gleneagles. In what became the formula for his other courses, he virtually lived on the site, serving as his own contractor; he still owns a rental house between Coos Bay and Bandon.
Some of the enduring elements of the Bandon Dunes experience go back to that first course. The lodging is on the interior of the site; Keiser had considered putting the first hotel on the bluff overlooking the ocean, but instead that became No. 16, a remarkable par 4. And Bandon Dunes is walking-only because Kidd argued for that.
"If Bandon Dunes hadn't been walking-only, it wouldn't have been Bandon Dunes," Kidd said. "Nobody makes that less-than-convenient hike to the Oregon Coast to drive a cart in the rain … For a golfer, it's a badge of honor to almost brag that you played the Old Course at St. Andrews in driving wind and rain.
"The same is true at Bandon. I never hear anyone say, 'Well, I went to play Bandon and I really didn't enjoy it because the weather wasn't good.' They say 'We played it and the weather was dirty, and we plowed on'."
The resort's slogan, "Golf as it was meant to be," was Kidd's inspiration, too.
"If the first course had been sort of ho-hum, the second course might never have happened," Kidd said. "And even if the second course had happened, without the va-va-voom of the first one, the second one wouldn't have been able to ride on the crest of the wave and make the wave even bigger."
'Seduced by the media'
When he built Bandon Dunes, Kidd was a Gleneagles employee, earning a salary of 40,000 British pounds a year, about $49,000. The success enabled him to form his own firm and charge a lot more. He insists that he didn't feel pressure to live up to Bandon Dunes.
"There was nothing to live up to," he said. "I was living up to my own expectations."
But other expectations played a role as Kidd's career progressed through the 2000s. Tiger Woods was in his prime; the industry mantra included such phrases as "Tiger-proofing" courses, "resistance to scoring" and "defense of par," and all those factors affected how a course was rated by Golf Digest and Golf Magazine, and those ratings led to further design opportunities.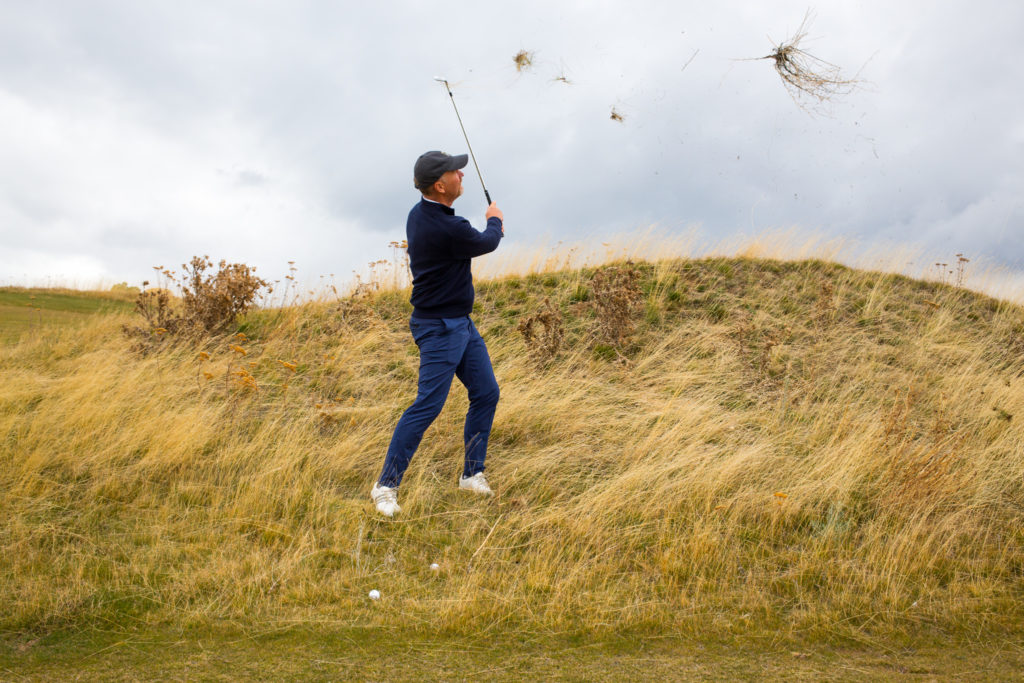 "The golf course and the golf course architect became the sales tool for a billion dollars worth of real estate," Kidd said. "The developers were saying, 'give me as much press as you can.' OK. What gets press? If you go to the major magazines, Golf Digest, Golf Magazine, Golfweek, their ranking criteria are based on resistance to scoring, defense of par, shot values, all key markers based around difficulty …
"So I took my team and my skills and said, 'if that's what you want, that's what we'll give you.'"
But Kidd, who plays to a 6 handicap, admits that it would bother him when he would sit in the clubhouse at Tetherow or the Castle Course and hear comments that his courses were too hard.
"These courses are successful," Kidd said. "But how much more successful could they be if the architect had been a little less seduced by the media?"
Harder isn't better
In 2009, Kidd took two colleagues and went back to Bandon Dunes, this time to study, in scientific detail, what made the course so beloved. He saw anew the wide fairways, the rough where the golfer can generally find his ball and play it, the room to recover after missing a green.
"For the average golfer, what is the most fun thing about playing golf?" Kidd mused. "Well, it's making pars and birdies. What is the least fun thing about golf? Hunting for golf balls …
"If you build a course that is wide and playable — like Bandon Dunes — it can still be really challenging. You are not guaranteed to make birdie on any hole at Bandon Dunes. You're dealing with the wind, dealing with the tight fescue surfaces, pot bunkers, greens that are massive. There's no gimmies, but its very, very playable … and then it's set in a landscape that people don't get to see very often."
Guided by a new philosophy, Kidd built Guacalito de La Isla in Nicaragua, which opened in 2013 and embodied some of his concepts about playability, and went further at Gamble Sands, even while making that course a notch more challenging.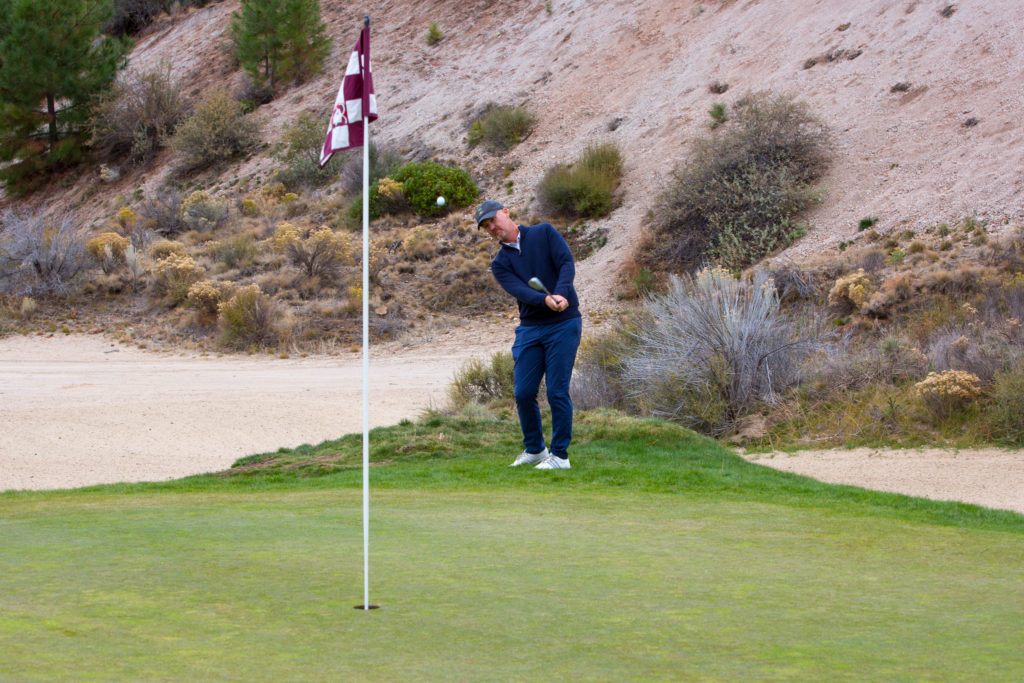 Wrote Ron Whitten in Golf Digest: "This isn't Golf for Dummies, it's Golf for Ordinary Golfers, for those who play expecting pleasure, not penance."
Take one small example — at Gamble Sands, Kidd designed room around greens in such a way that golfers who missed on their approach might have a chance to recover, and even get a favorable bounce. It wouldn't affect the single-digit handicapper who is shooting for a birdie, and settling for par; it would certainly make the course more friendly for average golfers.
"Gamble Sands has at least 15 yards around every green," Kidd said. "The golfer sees that ball heading toward the green, and then he sees it start to leak in some direction and he gets that little lump in his throat where he thinks 'oh, (expletive), this is bad,' and when it actually lands, something not so bad happens.
"It might actually hit a slope where the ball bounces and rolls and ends up back on the green and that little lump in his throat turns into a little smile at the corner of his mouth. Or, it hits the slope and lands in a collection area where he could actually putt it back on the green and make the next putt, so he's actually in two-putt area even though he didn't hit the green.
"By doing things like that, we can take the golfer's modest skills and make them spend much farther than they would on an otherwise more difficult golf course like Tetherow."
Keiser, whose target audience at Bandon Dunes is the "retail golfer," played Gamble Sands and loved it, a key factor in getting Kidd the Sand Valley assignment.
"It got him the job," Keiser said in an e-mail. "He and Tom Doak submitted routings and it was pretty close. I had just returned from Gamble Sands and was blown away by how fun it was.
"It's true — I didn't like some of his designs for a period of 10 years or so. But this is the New David."
Kidd flies himself to Sand Valley in his Cirrus SR22T; instrument-rated, he said he has logged 80,000 miles in the past 12 months. He may turn up the volume of "challenge" by a decibel or two over Gamble Sands, but not by more than that. In essence, the "New David," as Keiser put it, has "come full circle" and recaptured the magic of the Young David.
"I realized what I'd gotten right at Bandon but not understood why at the time," Kidd said. "Twenty years later, I got it right at Gamble Sands, but now I understood why …
"Golfers realize that when golf courses are fun, it's fun. And when they are brutally hard, unless you are a single-digit golfer, they can be less than fun. They can be miserable."
(Originally published Eugene Register-Guard, Nov. 8, 2016)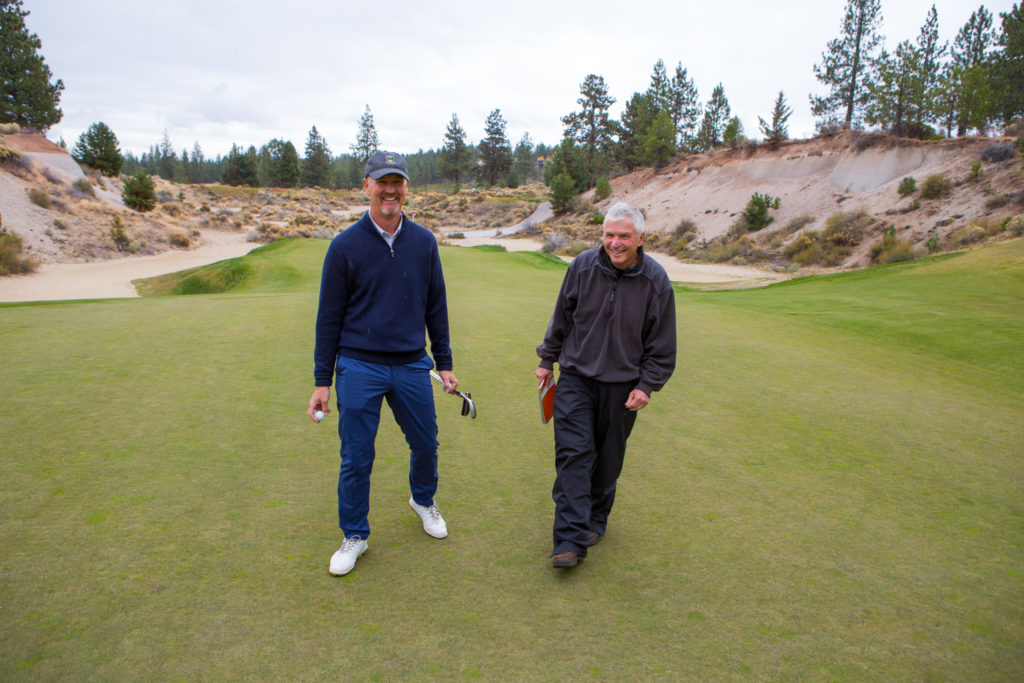 ---
Tags …