David Fink: An epic comeback win at Bandon Dunes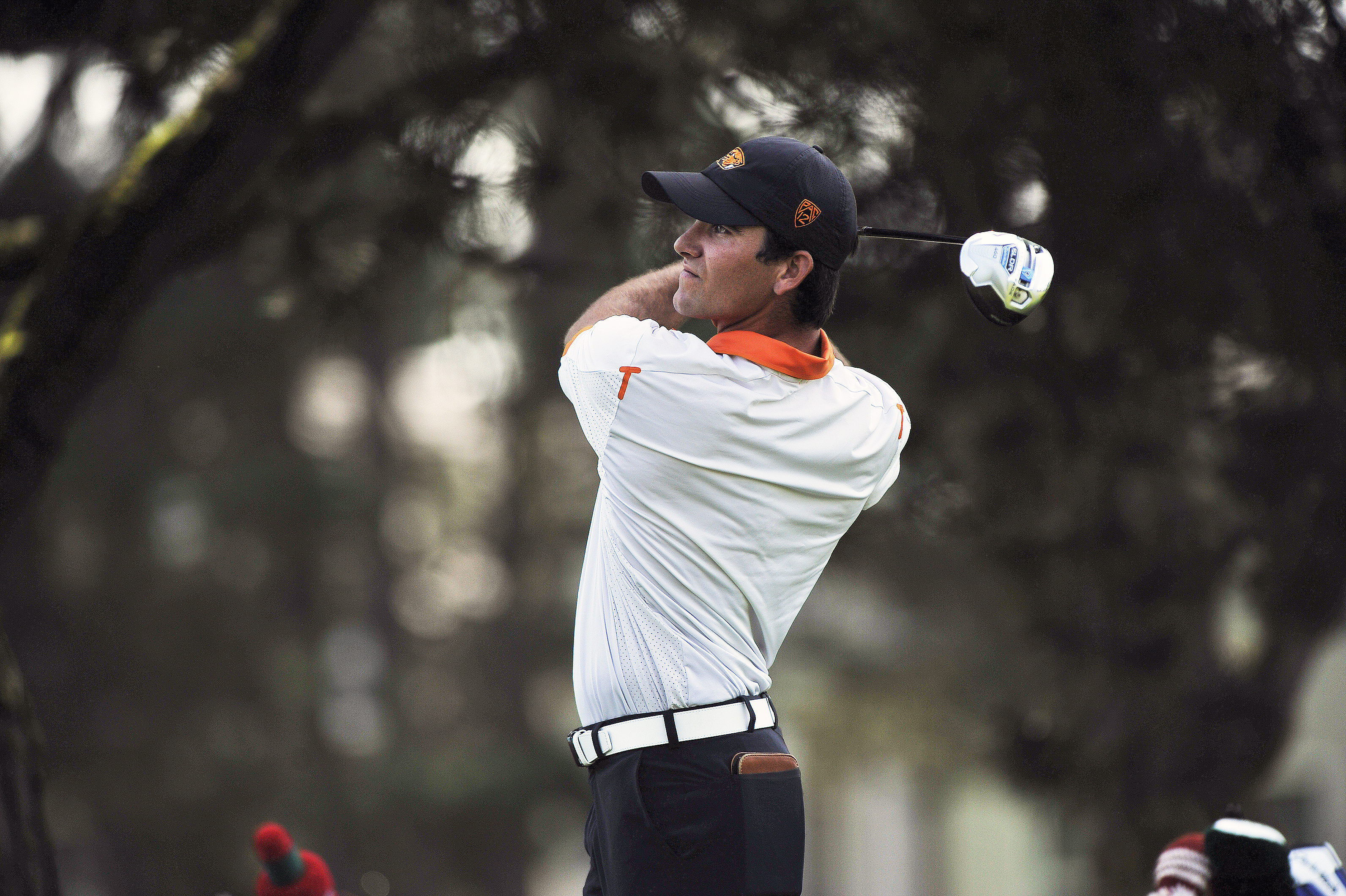 In the 2012 Pacific Coast Amateur, the Oregon State golfer won in dramatic fashion
The fog was thick that July morning in 2012 when Oregon State University golfer David Fink teed off in the final round of the 46th Pacific Coast Amateur Championship at Bandon Dunes Golf Course on the southern Oregon coast.
He was eight shots behind the leader, with traffic in between and really nothing to play for.
Except, after an injury-marred sophomore season, when a forced layoff reminded him how much he loved the game, and playing a course that was special to him, Fink resolved to give everything.
Several improbable hours later, after shooting a 2-under 70 and winning a five-way, four-hole sudden death playoff, the left-hander from Honolulu was posing with the trophy.
Over the past two decades, the Bandon Dunes resort has hosted five U.S. Golf Association championships (with the U.S. Amateur Four Ball scheduled May 25-29 and the U.S. Amateur next in 2020). It has hosted major regional championships featuring some of the game's most prominent amateur players.
Of all those tournaments, no winner has triumphed in more dramatic fashion than David Fink and it would take some time for him to grasp the magnitude of what he'd achieved.
"I'm a very humble guy," said Fink, now 28 and an assistant golf pro at StoneTree Golf Course in Novato, Calif. "It was weird having people know who I was because of how big the Pac Coast tournament was. You don't realize how big that pushes your name out there, going to other amateur events and having that asterisk that this guy won the Pac Coast."
Fink was simply happy to be there. In February he'd severely jammed a wrist hitting a punch shot out of Willamette Valley mud and missed several tournaments. His first round back, he couldn't break 80.
When he came to Bandon Dunes that summer, it was a return to a favorite place."
"I've always felt at home out there," he said. "I've always felt it was a very surreal place. It's just golf, just you and the golf course. There's nothing else out there to do or see, which is what I love about it.
"After a season in which I realized how much I missed playing golf, to go out to somewhat my heaven and play golf was awesome. It was a perfect script."
On the first day, the wind howling on Bandon Trails, Fink shot a 3-over 73 with a triple bogey on 18.
"It was a brutal test of golf," he said. "I've always enjoyed the tougher conditions. It's a survival mentality. You don't have as much time to think about mechanics. You're just purely being an athlete out there."
Fink followed with 73 on the Bandon Dunes course, but after a 5-over 75 on Trails he trailed Jarred Bossio of Idaho by eight shots going into the final round. Fortuitously, he was paired with another golfer from Hawaii, TK Kim of Boise State, and the old friends and rivals spurred each other with pars and birdies.
They didn't know it, but they were gaining on the field as golfers behind them struggled. When Fink missed a five-foot birdie putt on 18, he was chagrined that it had cost him a 69, not realizing until later that it would have won the tournament outright.
Fink's OSU teammate, Matt Rawitzer, seemed to have gained the upper hand, but double-bogeyed the par 3 No. 15 and bogeyed 17. When all the golfers were in, there was a five-way tie at 7-over — Fink, Kim, Rawitzer, Anton Arboleda of UCLA and Michael Anderson of Washington State.
The sudden-death playoff started on the par 5 No. 18.
"I remember that first tee shot," Fink said. "As much as you try to contain how nervous you are, and calm everything down, there's still the jitters. And I couldn't have swung any faster. It was probably Mach 5. I hit this biggest slice, and I'm just glad the bunker caught it. There was gorse just left of the bunkers, and I was nervous that it was going to be gone."
Fink pitched out, and wound up sinking a 10-foot par putt to stay in the tournament. "It was a must-make. … That got the fire burning inside, and after that it was game on."
All five golfers parred No. 17, a par 4, and Kim and Hawitzer fell out when they couldn't match birdies on No. 18. That sent Fink, Arbodela and Anderson back to No. 17.
Fink unleashed a great tee shot, had 124 to the pin and when he hit it to about 10 feet, he realized that he had the same line that Kim had faced for a birdie putt in regulation. He rolled it home, and the trophy was his; his most enduring memory is the excitement of his fellow OSU teammates, especially Hawitzer.
"We rode back up to Corvallis together," Fink said. "He couldn't have been happier for me, and prouder for me. "
That team spirit was something that Fink missed when he turned professional after graduating from OSU in 2014. He played two seasons on Canada's Mackenzie Tour, but came up short in attempts to regain his card, and in Q school on the Asian Tour. Despite his diligence, he won little money, endured missed cuts, and decided to step away from competing late last year.
"There is still an emptiness in me," he said. "I think I have the game to do better than I did. … I always have viewed golf as a love for me, as a passion. When I turned professional, something changed. There was more pressure on myself. I didn't think of golf as something to look forward to going out to practice. It became a job. … I think I burned myself out a little bit."
At StoneTree, Fink is part of the Bay Club enterprise of golf courses, fitness centers and recreational opportunities. It's an organization in which he feels at home, though he doesn't completely rule out competing again.
An improbable comeback? No more so than that comeback seven years ago at Bandon Dunes.
A version of this story originally appeared on the Pacific NW Golf Association and Pacific Coast Amateur web sites in March 2019.

---
Tags …