Bill Robinson: A golf architect's career by design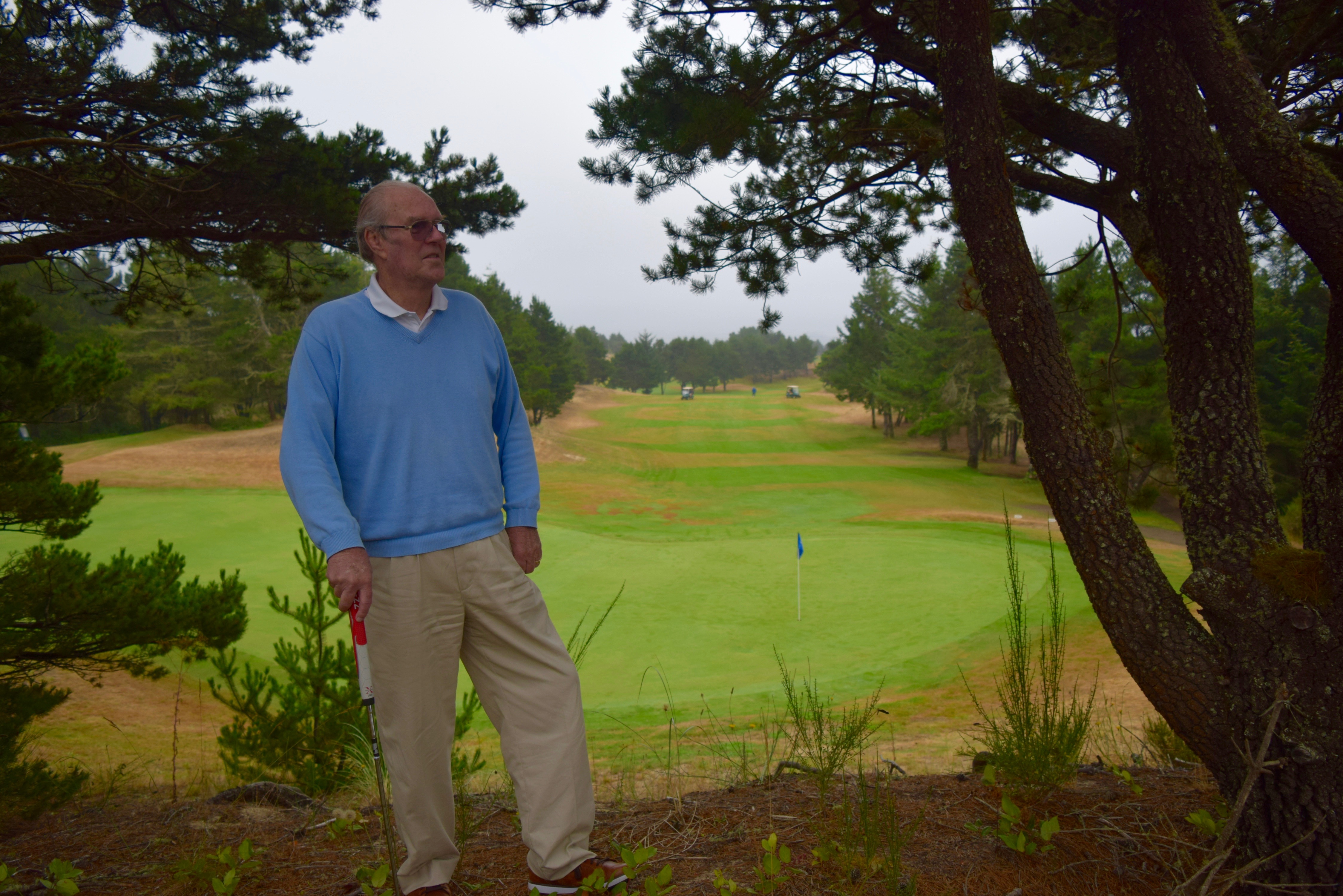 A student of Geoffrey Cornish, Bill Robinson designed courses that endured the test of time.
FLORENCE — He might have been a professional hockey player, but at 16 Bill Robinson suffered a serious eye injury, so his parents pulled him from competition at the Junior B level in Canada, the defenseman arguably two steps from the NHL, though everyone told him that at 6-foot-5 he was too tall for the sport, as it was played in the 1950s anyway.
So Robinson immersed himself in his other love, golf. His parents owned a summer place north of Toronto, where the nearby nine-hole Collingwood Golf Course had an annual membership of $10 for all the golf you could play, and his mother would drop him off at the course in the morning with $1 and pick him up at dusk, 54 holes later.
He was good at it, his left-handed hockey shot translating well into playing golf right-handed, initially with wood-shafted clubs donated by a neighbor.
When he graduated from high school, Robinson landed a job as an assistant pro, choosing that over college. That plan was derailed by an uncle, his father's brother, a prominent child psychiatrist.
"There will be no golf bums in this family," his uncle declared, and seized upon a drawing that Robinson had created, free-hand — the layout of Westmount Golf and Country Club in Kitchener, Ontario, where at 15 he'd seen the 1957 Canadian Open.
"Did you ever think about designing golf courses?" his uncle asked. Robinson had never heard of such a thing.
His uncle had a friend who was a golf architect and promised to get him an interview. And so young Bill Robinson would come to meet Robert Trent Jones.
A long career
Like the capricious bounces of a golf ball, who can predict the road a career might take?
When he retired from golf architecture in 2005, Bill Robinson, by his count, had worked on 285 to 300 golf courses, including renovations of entire courses or a few holes, nine-hole additions and more than 120 new courses.
His name is on courses throughout New England and in western Canada, and in a lot of places in between.
In Oregon, he did the major renovation at Shadow Hills Country Club that has proved crucial to the club's evolution, and designed the Oregon Golf Association member course in Woodburn, Meadow Lakes in Prineville and his last Oregon course, Chehalem Glenn in Newberg. He created the master plan for the renovation of Willamette Valley Country Club in Canby, and designed additions or renovations at such courses as Watson Ranch near Coos Bay, Michelbrook CC in McMinnville and Gearhart Golf Links.
And he bought the run-down nine-hole Rhodo Dunes in Florence in 1989, renamed it Ocean Dunes, built an additional nine holes and re-did the old nine, so that there are no vestiges of the original course, and co-owned it 16 years, living in a house overlooking the course.
"My career is nothing spectacular or anything, but it lasted 45 years," said Robinson, 75, who after a dozen years on the East Coast returned to Florence last year with his wife, Della, to a place along the second fairway at Sand Pines, 10 minutes from Ocean Dunes. "It's the only thing I've ever done. I don't think I'd know how to do anything else, to tell you the truth."
The remarkable Mr. Cornish
His uncle's inspiration led Robinson to enroll at Penn State, where he majored in landscape architecture and walked on to the golf team. (A scratch golfer in his prime, Robinson played to a 4 handicap or better over a 40-year period, and played tournaments in Oregon while he owned Ocean Dunes.)
In college, Robinson interned two summers for Robert Trent Jones, an iconic figure in golf architecture, learning the business, absorbing some principles.
"His philosophy was 'easy bogey, hard par,'" he said.
In 1964, Robinson graduated from Penn State and went to work for the unconventional mentor who would influence the rest of his career — Geoffrey Cornish, of Amherst, Mass.
A recon officer for the Royal Canadian Army in World War II, Cornish was part of the landing force at Normandy on D-Day.
"They would send him across enemy lines by himself and he would bring back information on where the enemy was," Robinson said. "He had to find his own way back. …
"Once we went to look at a piece of ground in New Hampshire with three feet of snow on it. We must have walked two2 hours. I said 'we've got to get back to car or we're going to be lost out here.' He said, 'oh, no, I know where I am.' I didn't know where the hell I was. But we went back to the road and the damn car was less than 100 feet from us. Couldn't believe it. How he got there I had no idea."
The former university agronomy professor was devoted solely to his craft. Cornish woke up before dawn, worked mornings, went for a long walk through the Lawrence Swamp, worked some more, walked again, did some speed reading and went to bed by 7 o'clock. Until Robinson came on board, Cornish's wife, Carol, sketched his layouts.
"He taught me just about everything," Robinson said.
"The thing that he emphasized the most was to give the client a dollar's value for a dollar's worth. He had what he called the triangle of basic considerations. It was an equilateral triangle. One of the sides was that whatever you design should be easy to maintain. Another side is that it should have strategy and add interest to the game of golf. And the last side was the aesthetic value. Those were the things that he emphasized.
"Everything was based on that triangle."
Dubbed the "Johnny Appleseed" of golf in New England, Cornish, with Robinson, designed dozens of courses, often on land that other architects wouldn't touch, and at prices lower than other architects would bid; he was better known for the overall volume of his work than a singular signature design.
"Geoff was more known for giving a client dollar's value for a dollar's worth," Robinson said. "He designed so many golf courses that other people would say they didn't have enough money to build; Geoff would do it. And they were all good golf courses.
"When you start thinking, (the prices for) what they are doing today is absurd. Absolutely absurd."
Once, Robinson recalled, they were invited to submit a proposal for renovation work at the prestigious Chicago Golf Club; they inspected the course, and Robinson envisioned a great opportunity and a nice check from club officials.
"And Mr. Cornish said 'you have one of finest golf courses, I wouldn't do a damn thing to it. I'd love the job, but don't do a thing,' and we walked out."
With Cornish, who passed away in 2012 at age 97, Robinson designed as many as 12 to 18 courses in a year, lectured at the University of Massachusetts, and wrote pamphlets on golf course design. They worked together for 16 years, until 1980, when their work had expanded so extensively into western Canada that they split the business, with Robinson taking the Canadian portion.
A dollar's value
As a one-man operation for the last quarter century of his career — he sometimes contracted with his younger brother, John, also a golf architect, to create working drawings from his plans — Robinson continued to follow Cornish's philosophies. He respected his client's investment, moving as little dirt as possible in building a golf course. "I wanted to do the best job for my client, not make a monument to myself," he said. He remembered that 90 percent of golfers are double-digit handicappers, and knew the course had to be playable for them.
During construction, Robinson made frequent visits to the site, every week on a new course, every couple on a renovation. In an era in which some architects command seven-figure fees, Robinson thinks the most he ever charged for a master plan was $50,000 plus inspection costs.
"I'm not ashamed of anything I did," he said. "I never gave any client bad advice, that's for sure. And I never led a client into something I didn't think they could handle. There are very, very few courses that I ever did where they got into trouble. And I think it all comes back to Mr. Cornish saying 'you give your client a dollar's value for a dollar spent.'
"If you do that, you can walk away. …"
Robinson's favorite projects include renovation work at Jasper Park Lodge Golf Club in Alberta, in 1994, restoring a 1924 design by Stanley Thompson, a famous Candian architect who influenced both Jones and Cornish, and Eagle Ranch, a spectacularly beautiful course he designed in Invermere, B.C., overlooking the Columbia River.
One that got away? Well, at one point during the 1990s, Robinson learned of some property for sale near Bandon on the Oregon coast, a potential site for a golf course.
"My superintend at Ocean Dunes, Mark Shepherd, said there's land for sale they're going to build a golf course on, let's go down to see it," Robinson recalled.
"We got in the car and went down there, and you couldn't get through the place because it was all gorse, and thick. I looked at him and said 'we can't even see thing, we're going to have to get a helicopter.' We never did anything after that, and the next thing you know it was sold for $2 million. If I had thought about it more, you could have put a syndicate together. …"
The successful buyer was Mike Keiser, who created Bandon Dunes Golf Resort.
With a rotator cuff injury and a bad foot, and having survived a major heart attack, Robinson isn't golfing these days. He and Della are planning to build a new house on Sand Pines. They married in 2003, after both lost spouses to cancer. Robinson's wife, Cyndie, passed away in 2002; Della's late husband, Art Weston, had been the Siuslaw High School golf coach, and she worked as a house designer and contractor, and was a city council member in Florence and then Dunes City.
In retirement, Robinson continues to follow and think about the sport to which he devoted his life.
He's concerned about the rate with which golf courses are closing, and the pressure on architects to design longer courses with higher green speeds to combat the longer hitting enabled by modern technology. He believes that trend has led to higher costs and to slower play; along with Jack Nicklaus, he believes the USGA should mandate a restricted-flight golf ball that carries no more than 265 yards or so.
"It's killing the industry," he said. "It used to be that a 435-yard par 4 you quaked in your boots. Now these guys are laughing. …
"It all goes back to the golf ball. Everything."
In a way, so did his career.
(Originally published in The Eugene Register-Guard, Aug. 29, 2017.)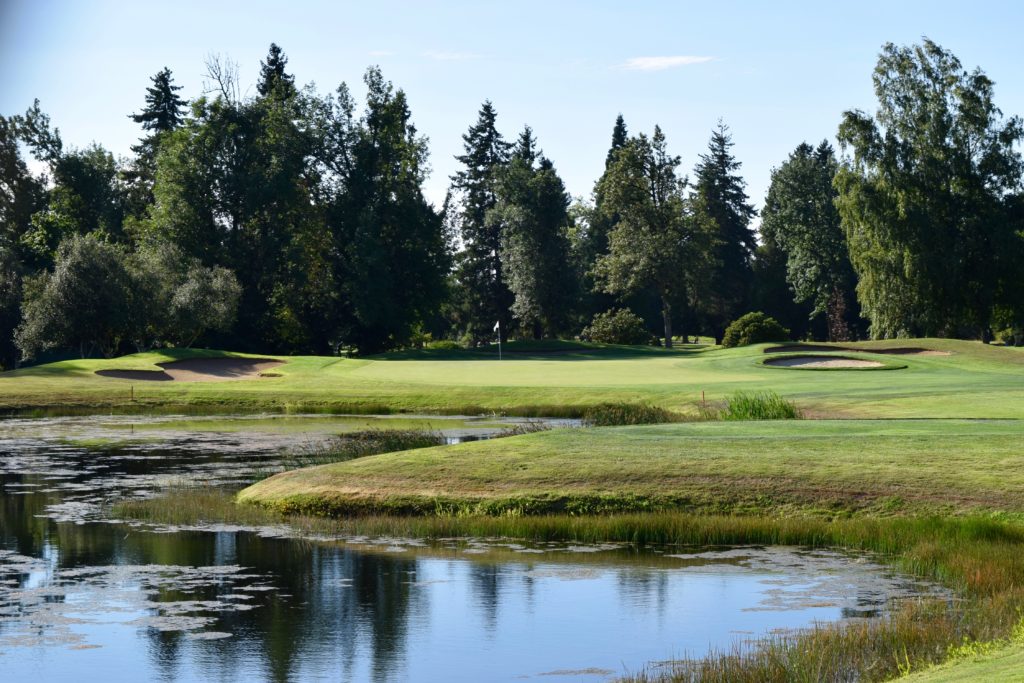 Shadow Hills CC: The course that Bill Robinson rescued
JUNCTION CITY — For Shadow Hills Country Club, Bill Robinson's golf course redesign in the early 1990s was, in retrospect, a matter of survival.
"Without the redesign, Shadow Hills probably would not be here," general manager Dave Shelton said. "It was dramatic. It took a course that was nothing special and turned it into a quality championship golf course."
The redesign took place in four stages, between 1992, 30 years after Shadow Hills opened, and 1995. It led to an infusion of new members and enabled Shadow Hills to attract the Oregon Classic, then a Nike Tour event, for an 11-year span starting in 1998. And 20 years later it left Shadow Hills with the committed membership base to build a new clubhouse and a Dan Hixson-designed practice facility, a $5.8 million investment that opened in 2012.
In the $1.5 million project, Robinson expanded old farm drainage ditches into multiple ponds, particularly in play on the par 3s. He created mounding around the greens, added new fairway bunkers and lengthened the par-72 course to 7,113 yards from the tips.
"Prior to the remodel, Shadow Hills was about as vanilla as they get," said former club pro Mark Keating, now head professional at the Robinson-designed Oregon Golf Association course in Woodburn.
"You could play 10 or 12 holes and not know what hole you were on because they were so similar. … What the remodel did was define each hole very nicely. No two holes are the same. You've got to do a lot of different things to work your way around."
Keating said the first phase — holes No. 10 through 13, in which No. 11 and 12 were completely re-done — led to "a flood of new members," and by the ensuing summer there was a waiting list. Three years after the redesign was completed, Shadow Hills hosted its first Oregon Classic, part of the steppingstone tour to the PGA Tour.
"Without the bunkering and the definition, the Tour folks would have said 'thanks but no thanks,'" Keating said.
---
Tags …