Alexa Udom: Seeking a Happy Birthday in the OGA Junior Am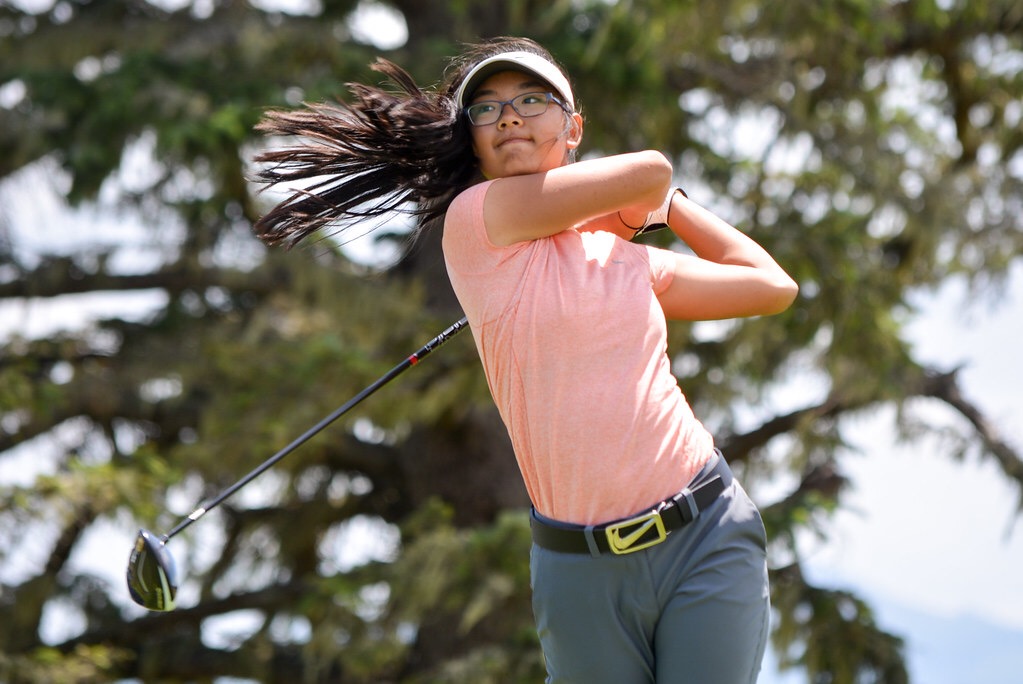 Goal-oriented Westview HS senior-to-be has committed to BYU
Alexa Udom turns 17 on Friday, June 28, which happens to be the date of the championship match of the Oregon Golf Association's 89th annual Bob Norquist Junior Amateur at Oswego Lake Country Club, and as birthday presents go, something in a girls trophy would do quite nicely.
The senior-to-be at Westview High School, who has made a verbal commitment to play collegiately at Brigham Young University, certainly has the game for it; though she admits she's never played that well in the Oregon Junior Am, she shared the state 6A title as a sophomore and was runner-up last month as a junior.
Then again, it's a strong field for the tournament that begins Monday, June 24, with competitors like Tannica Porter, the 5A champion from Willamette High School, and Westview teammate Jessica Ponce, bound for the University of Montana on a golf scholarship, who finished third in the 6A tournament.
And then there's another challenging factor for Udom, a medical condition known as Immune Thrombocytopenia, or ITP, a disorder that can lead to excessive bruising and bleeding, the result of unusually low levels of platelets, the cells that help blood clot.
The condition was diagnosed in the spring, after Udom dealt with uncharacteristic tiredness.
"I think we were all scared at the beginning," said her father, Charlie. "It could have been leukemia. I think we were all a little bit worried, scared. Once we ruled that out, and now that we have a grasp on it, we're hoping it's short term and that it will go away, but they won't know until we keep testing in about a year."
The condition is treatable with medication, but Alexa is still trying to find the right dosage. She was in the hospital the weekend before the 6A tournament, fired a 67 on the first day to take the lead, but faded on the back nine of the second day and was overtaken by Summit senior Olivia Loberg, who won her third state title, including two 5A crowns.
The Junior Am, with 18 holes of stroke play qualifying the first day, and multiple rounds of match play, can test the endurance of any golfer.
"I'm still playing in tournaments and I think I'm getting better control of it, dealing with how I'm feeling and my body getting weak and tired at the end," Alexa Udom said. "I think I'm getting better at managing it and playing through it. …
"It's not really life-threatening, and there are ways to deal with it, there are medicines. It's obviously a little stressful but I'm not scared or anything. It's not the worst thing that could have happened."
Udom's family tree includes some athletic toughness. Her grandfather, Cherdchai Udom, represented Thailand as a bantamweight boxer in the 1964 Tokyo Olympics and 1968 Mexico City Olympics; he won a gold medal in the 1966 Asia Games and was a two-time South East Asian champion.
Her father, Charlie, was born in Oregon and is a software designer; her mother, Yoshiko, was born and reared in Japan, came to Oregon for college and is a special education assistant. It was Charlie who took Alexa, and later her younger sister, Momo, who just finished her freshman year on the varsity at Westview, to the golf course at an early age.
"I'm a big golf fan," Charlie Udom said. "I love the sport. … When she showed potential when she was young, I was like all the crazy dads, 'I'm like, oh, man, she could go pro.' …"
Not that Alexa and Momo were always that passionate about the sport.
"I never forced them," Charlie Udom said. "When I saw they weren't dragging me out to the course every day, I changed my expectations and thought 'OK, if they enjoy the game and just want to play high school golf, great I'm happy, they can have something they can play the rest of their lives.'"
However, the girls did enjoy playing tournaments, through OGA Juniors and U.S. Kids Golf, and that led to dad requiring a minimal amount of practice time before those events. And when Alexa reached high school, golf took on a new importance.
'That's when I decided I wanted to play college golf," she said. "So I started to practice more on my own and take it more seriously."
Figuring that a college golfer devotes 16 hours a week to the game, on top of school, Udom began spending that amount of time on golf. The family lives on the 13th hole at Rock Creek Country Club, and she'd practice there diligently while keeping her grade-point average in 4.0 territory.
Meanwhile, Charlie became a certified Titleist Performance Institute instructor, learning how to help Alexa with the kind of workouts a golfer needs, from weight-lifting to core strength and fitness. At 5-foot-5, she now drives the ball 230 to 260 yards, and while Charlie Udom is a more-than-decent golfer, "a shaky 8" handicap, he's no longer a match for his daughter, who plays to a 1.9.
Alexa's dramatic improvement manifested itself last year, when she holed a 10-foot birdie putt on the 18th hole to share the 6A title with Tya Seth of Lake Oswego at 2-under, and last summer, when she shot a 67 during the Oregon Junior Stroke Play tournament.
Her commitment to BYU will fulfill one goal, to play college golf, and she believes will best prepare her to fulfill another.
"I really like the school, and I connected to the coaches," she said. "They were the nicest coaches I talked to, and I think they fit me the best, the way they work. I feel I could improve a lot there and take my game to the next level.
"I would like to try to go pro after college. I would like to go pro."
Udom's summer schedule includes more OGA Junior events, trying to qualify for the IMG Academy Junior World Champions and competing in the Portland Classic Amateur Open; the winner in that event gets an exemption into the LPGA Cambia Portland Classic, and the second- and third-place finishers get a spot in Monday qualifying.
But first, the Junior Am, which offers a chance for the happiest of birthdays.
A version of this story originally appeared on the Oregon Golf Association web site in June 2019.
---
Tags …